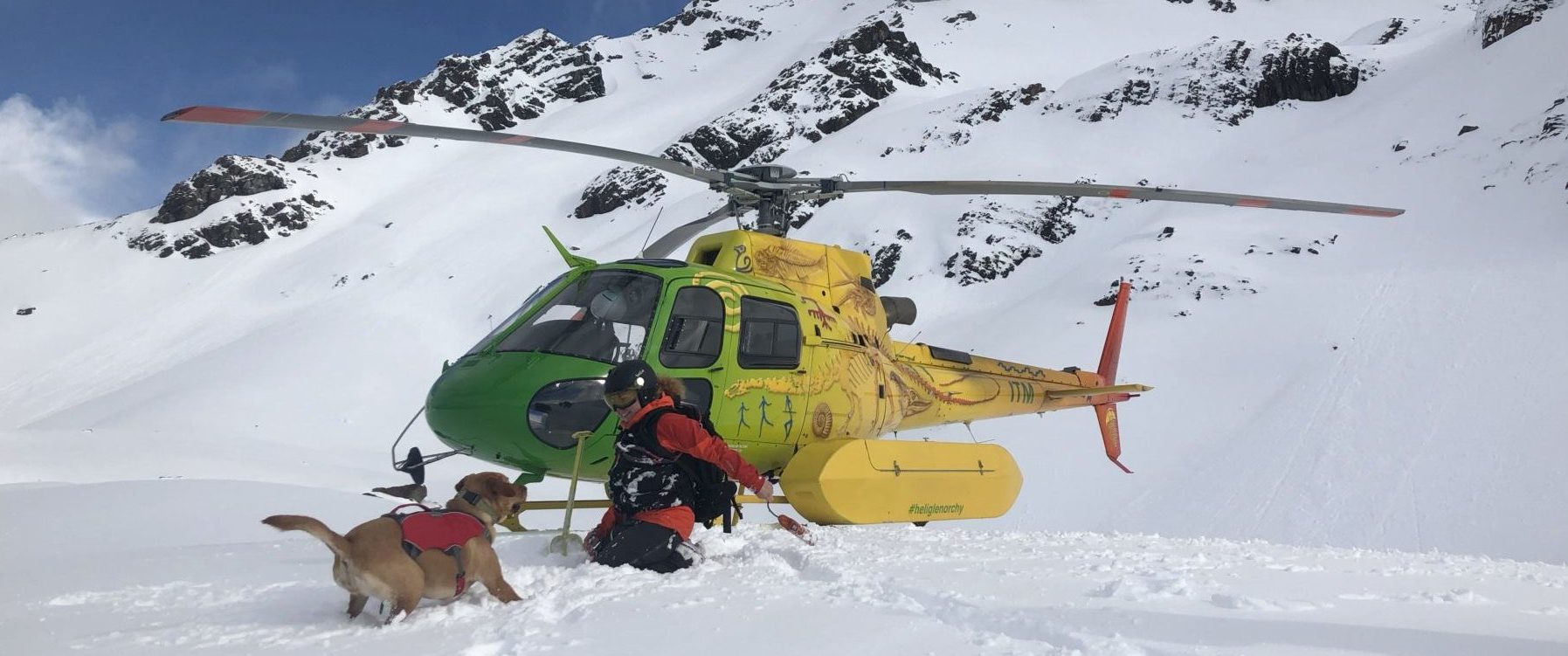 Two wildlife and conservation projects are flying high thanks to Heli Glenorchy. A connection between a seventeen-month-old Labrador and traps to prevent a hedgehog invasion in New Zealand's native bush seems somewhat unlikely. But they've been brought together in the frontline battle against natural disasters and the extinction of native species.
Three-year-old scenic flight company Heli Glenorchy is 'giving back' to Glenorchy's treasured environment by donating flight time to New Zealand's renowned search and rescue service LandSAR and the Routeburn Dart Wildlife Trust's predator control operations.
They're helping the Trust 'bring back the birdsong' in the Routeburn and Dart valleys and helping Zara the Labrador to 'fly' to real-scenario training locations in the depths of the mountains.
For trainee SAR dog Zara, heli hours that any pilot would envy are important to her training.
She's been trained from a puppy by NZ LandSAR Search Dogs volunteer and dog handler Vladka Kennett to search in wilderness and avalanche environments.
With her annual assessment due late-August, Vladka says it's extremely important that Zara has frequent access to snow training and exposure to flying so she becomes comfortable and confident in the air.
"To have local community support is invaluable to us, not only for access to "real scenario" training locations but for volunteers to get to know each other before working together in real events," she says. "This, of course, includes pilots and on-ground crew.
"The Head of the Lake is backcountry and heliskiing terrain and can only be accessed by helicopter.
"Thanks to Heli Glenorchy's support, we can regularly visit the hangar to do routine obedience and search training and jump on and off 'the chopper' if needed.
"Time is crucial in an avalanche situation, so it can save lives if we can just grab the dog and a pack and jump on the heli right here."
Meanwhile, flight time donated to the Routeburn Dart Wildlife Trust will be auctioned on TradeMe, with scenic flights going to the highest bidder.
Trust Executive Officer Geoff Hughes says the funds raised will go towards predator control in the Routeburn and Dart Valleys.
"Most species at risk in the Routeburn and Dart valleys nest in places that predators find easy to access, so it's our job to save native species from becoming extinct," he says.
"Hedgehogs have been spotted in Blanket Bay and if they arrive in Glenorchy they could cause destruction to ground-nesting bird nests.
"The money raised could be spent on buying hedgehog traps by the Buckler Burn or help serve and maintain the 601 traps installed at the new Dart and Rees rivers trapping project.
"As a self-funding charitable trust, we're ever so appreciative of Nick and the team for the funding and support."
Heli Glenorchy also works with the Department of Conservation (DOC) servicing local walking tracks, in addition to commercial work including heavy lifting, firefighting and most recently assisting with the reconstruction of Kaikoura.
Its recent work has seen the company be recognised with a Qualmark silver rating for its sustainable practices.
Heli Glenorchy director and chief pilot Nick Nicholson is delighted to 'give back' to Glenorchy's treasured environment.
"It's the raw nature and remote terrain that makes our business possible so it's nice to be working closely with the Glenorchy community," he says.
"Our support to the Routeburn Dart Wildlife Trust is complementary to the work we do with DOC, and New Zealand's search and rescue service is essential to get behind as it's a safety net for anyone exploring the backcountry during winter.
"Achieving a Qualmark silver rating is fantastic and supports the movement we're going through for our Safety Management Systems framework.
"The recognition and constructive feedback we've received from Tourism New Zealand will help with future growth in all aspects of the company."
Video footage of NZ LandSAR Search Dogs volunteer and dog handler Vladka Kennett and Zara can be found here.