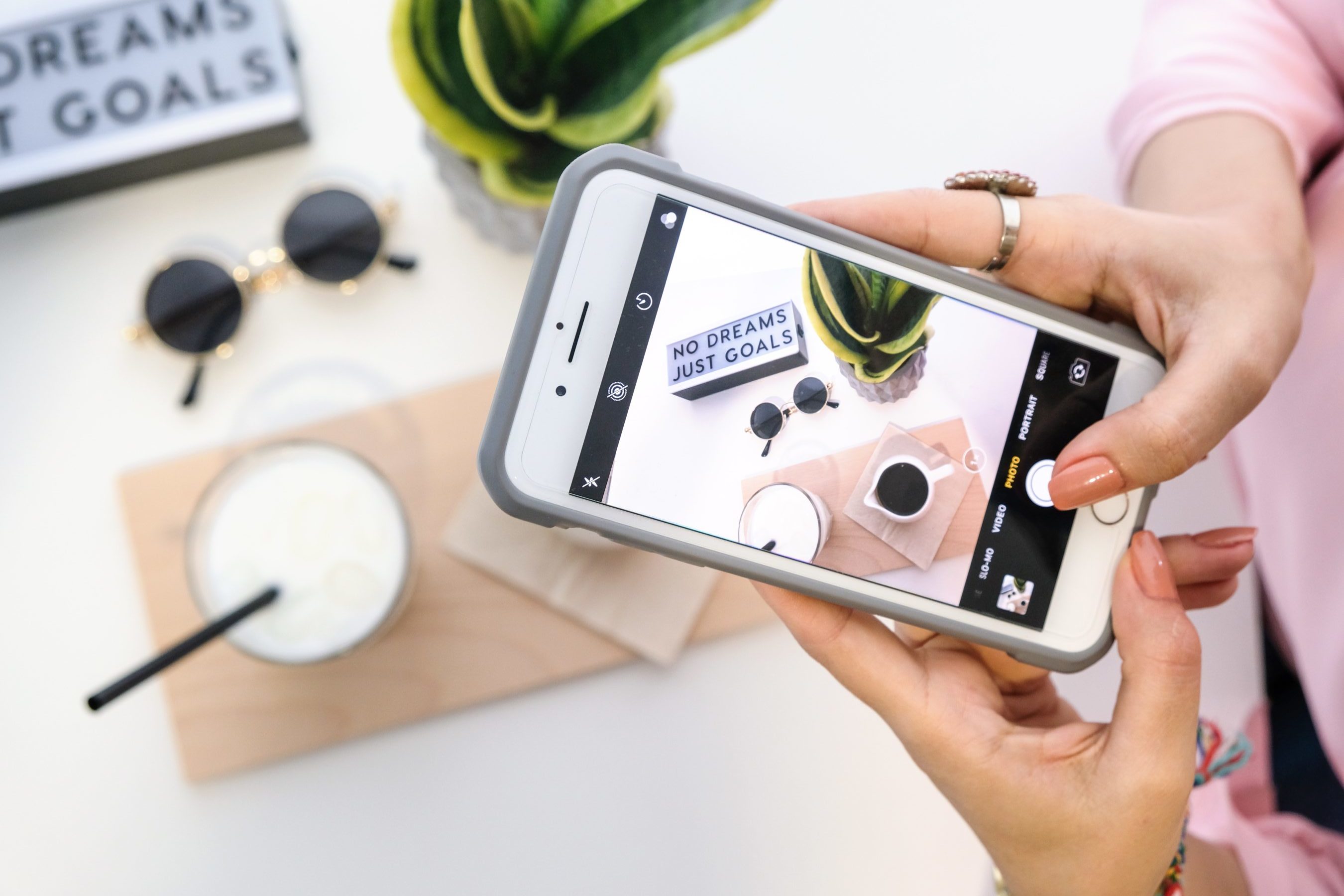 Best photography and videography apps of 2018
We attended a Business Building Block session with Chris Gillman Gable last week to unlock the power of our smartphones. After the session, SPR's Carlie was inspired to try them out for herself so here's a summary of the best photography and videography apps 2018.
Smartphone cameras continue to grow more powerful with each update, with many businesses and photographers starting to use their phone as their primary camera. While the built-in camera is quite effective there are hundreds of third-party apps that can instantly turn your smartphone photography capabilities from zero to hero.
Camera Apps
ProCamera – ($9.99) iOS
If you're willing to pay for a photography app for your smartphone then this is the app for you. ProCamera turns your phone into a serious photographic tool offering everything you need to shoot stunning high-quality images. ProCamera gives you maximum control before you shoot, unlike most photography apps that only provide after effects and editing. It lets you change settings that are more commonly associated with D-SLRs than with smartphones, such as ISO, shutter speed, and white balance.
VSCO – (free + in-app purchases) iOS & Android
VSCO is a feature-rich all-in-one editing, photo sharing, and camera app. One of the best things about VSCO camera (apart from the price) is how easy and useful it is for both beginners and advanced photographers. The user-friendly and sleek interface allows you to change the shutter speed, manually focus, adjust the white balance and change exposure.
Moment – (free / $4.49 if you want all the features) iOS
This newly revamped app is a personal favourite and at NZ$4.49, forego a daily coffee and get this instead. Moment offers full manual control over exposure, ISO, shutter speed, focus, and white balance via on-screen sliders. You can double-tap the screen to separate focus and exposure and there's even a dual-stage shutter. You can shoot in RAW mode and select from HEIF, HEVC, TIFF, and JPEG image formats. This is the perfect app for serious iPhone photographers!
Third-Party Video Apps
Filmic Pro – ($22) iOS and Android
With claims of being 'the world's best video app', my expectations were high. Safe to say, the stories are true, so if you're a videographer and you don't have this app – get it now! With features you'd normally expect in a high-end video camera, Filmic Pro has a user-friendly interface and is packed full of customisable tools. Enjoy full control of image quality, exposure, focus, white balance, zoom speed, frame rates and audio, just to name a few.
ProMovie – (free / $4.49 to remove watermark) iOS
It's free, it works and it's easy to use. Step up your videography game with this feature-rich app which gives you manual control over exposure, focus, frame rate, quality and sound. The watermark is annoying but with all free apps there's always a downside (or remove it for $4.49). Either way, ProMovie is a quality app and worth a download.
Cinema FV-5 – ($6) Android
This one for the Android users. With similar features to Filmic Pro (although not as good) Cinema FV-5 provides you with many professional video settings and full manual control over your Android camera. This includes exposure compensation, ISO control, light metering, manual focus, white balance, zoom, different frame rates and audio monitoring.
8mm Vintage Camera – ($2.99) iOS
Believe it or not, this is an "Oscar-worthy app"! 8mm was used by director Malik Bendjelloul in his Oscar-winning film Searching for Sugar Man. The app brings your iPhone back in time to capture the beauty and magic of old school vintage movies using retro filters, flickering video effects, light leaks, dust, scratches and frame jitters. This easy to use app allows you to add, modify and customise effects in real time shooting mode before easily saving your clips and exporting to your camera roll, email or social media. This is certainly a worthwhile $2.99 purchase.
Post Production Photography and Videography
Affinity Photo – NZ$30 (IOS-iPad), NZ$75 (Windows)
The $30 price tag may seem excessive, but have you looked at the price of Photoshop lately? This powerful app is Adobe's newest (and fiercest) challenger. This award-winning image editing app seriously stacks up against the likes of photoshop with its sleek design, touch-optimised tools and a user-friendly interface. While it's not a 'smartphone' app (only available on tablet or desktop), Affinity Photo was simply too good to leave off this list!
Snapseed – (free) iOS and Android
ATTENTION ALL! This is the ultimate, free image editing tool. Believe it or not, there's no catches; no annoying ads, locked paid features, watermarks, just easy image editing at the touch of your finger. With 29 editing tools and the option to use set filters or manual mode, you can edit images to your heart's desire. Do yourself (and your Instagram) a favour and download Snapseed!
iMovie – (free) iOS
This simple video editor will let you import, clip, arrange, add transitions and music and export your video. It's basic, but for most amateur videographers iMovie will provide all the features you'll ever need.
LumaFusion ($30) iOS and Andriod
It's a difficult task to build a video editor app that's easy to use but offers complexity and depth yet LumaFusion does just that. With multiple video, audio and special effects tracks paired with advanced colour correction abilities, slow-motion and reverse modes, live audio mixing, sophisticated audio editing and effects, editable titles, and many more features – this app is a videographer's dream!