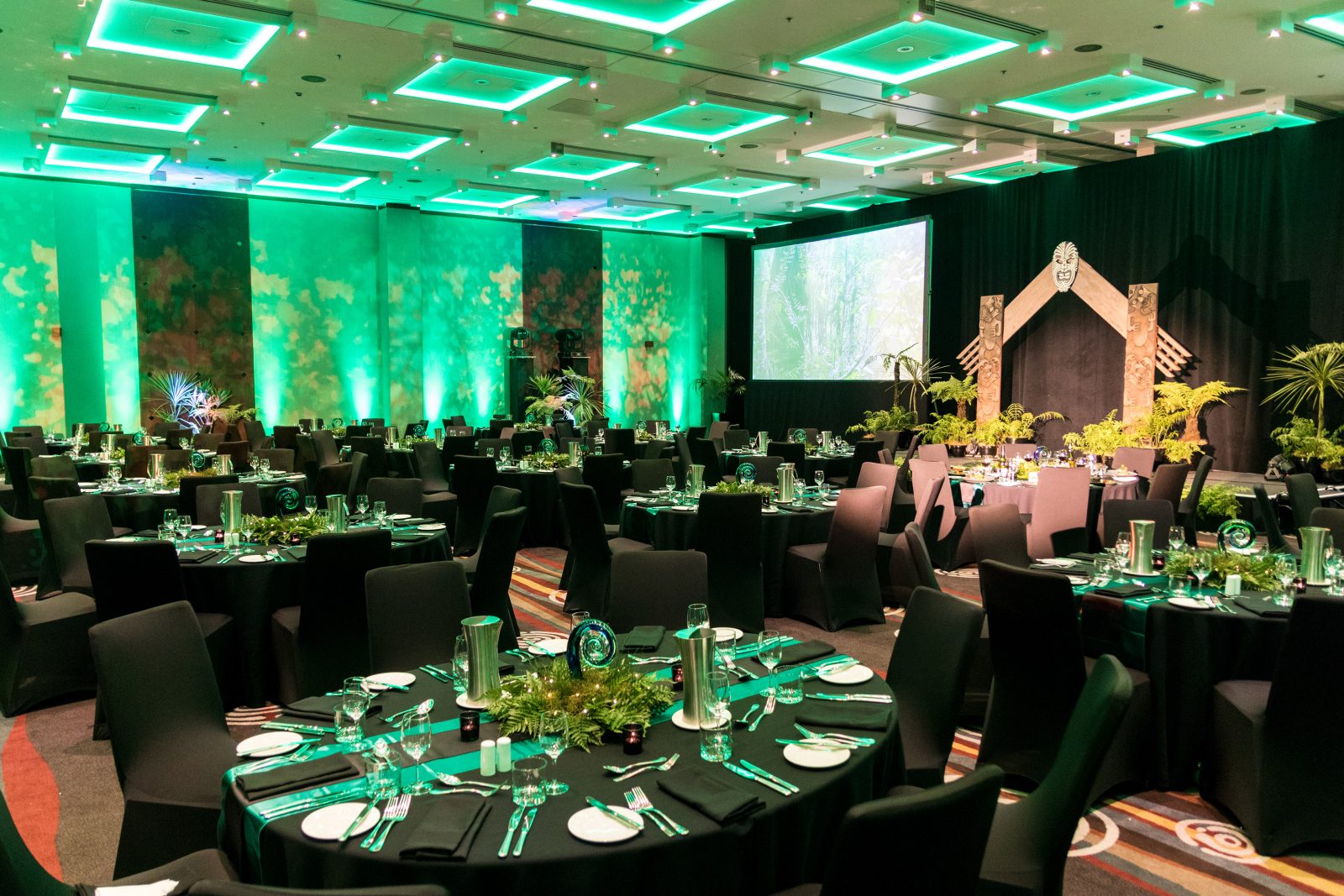 Media release from Crowne Plaza Auckland
Crowne Plaza Auckland is turning the boardroom into the 'not-so-bored' room and put the excitement back into 'experiences' for meetings, incentives, conference and events guests.
The 352-room city centre hotel launched its latest video campaign today (Monday November 27) to help take bookers on a visual journey of the hotel, and to offer a little inspiration on what can be done in its varied and flexible event spaces.
Making its debut in the video is Crowne Plaza Auckland's newest gala dinner package. The New Zealand Gala Dinner package offers guests a unique welcome and insight into some of Aotearoa's culture including a 15-minute Māori welcome, a New Zealand-themed buffet and Aotearoa-inspired decorations, along with inclusions such as stage and dance floor hire.
The video also showcases hotel facilities such as the Club Lounge – an exclusive area with all the 'bells and whistles' available to guests who stay the night in a Club room.
The changes have come from Crowne Plaza's new brand tagline 'we're all business, mostly' and a recognition that delegates and guests are looking for unique spaces and experiences coming into 2018.
Based on the modern business traveller, the campaign also recognises that delegates want to make the most of every opportunity when travelling for work to make time inside AND outside the boardroom really count.
It's in line with a new European study that recognises meetings built around 'all work and no play' makes for a dull Jack or Jill.
The IHG study has revealed business travellers admit work trips are more fun and enjoyable than they let on, with nine out of ten making the most of downtime by getting out and about to explore the city, ticking off their personal travel 'to do' list.
Crowne Plaza Auckland is conveniently located in the heart of the city's business, entertainment and waterfront district, and General Manager Tim Pollock said it was the perfect base for guests to "do business and get out to experience the best of the city".
To help guests do just that, the hotel's created an online guide to Auckland business travel featuring 'must-do' activities for their downtime, dining hotspots and team building exercises around the city.
"Business trips have somewhat changed," said Tim. "The new video campaign reinforces to the MICE market that work and downtime can be mutually productive.
"We do the fundamentals extremely well but in today's market it's about creating unique experiences to excite and delight delegates, so we're continuing to work on new projects coming into 2018.
"We're proud to have been named Leading Business Hotel in the World Travel Awards again this year, for the third time. It confirms what we know, but also creates confidence in guests that Crowne Plaza Auckland's exceptional high level of service has been maintained over the years."
The hotel is home to ten flexible function rooms catering for everything from an executive boardroom meeting for 12 to a presentation or gala event for up to 460 guests.
All meeting and conference rooms are fully equipped with modern sound and visual systems, complimentary Wi-Fi and interactive projectors. The hotel's audio-visual specialists supply all the presentation needs from a data projector to staged events and widescreen presentations.
Many of the function rooms are bathed in natural light, with all rooms providing bespoke flexibility. The hotel's renowned Aria Restaurant and Bar also creates the perfect venue for a business lunch or group celebration.
Crowne Plaza Auckland also recently launched three new packages – Mostly Energised, Mostly Inspired and Mostly Social – to ensure downtime is as productive as work time.
Whether guests are in Auckland for business, an event, need some much-needed rest and relaxation, or are looking for a weekend escape, the packages are designed to leave them feeling inspired, energised and connected.
Tim Pollock said the packages tied in perfectly with meetings and conference business.
"We want delegates to stay the night and enjoy everything Auckland has to offer. Whether they want to stay active in the city, be social or relax with a massage at the end of the day, we have all bases covered."
See the video campaign here and find out what's on offer for the Auckland business traveller this summer here.
Picture caption:
1/ Crowne Plaza Auckland's Aotearoa-themed gala dinner is a unique experience for MICE guests