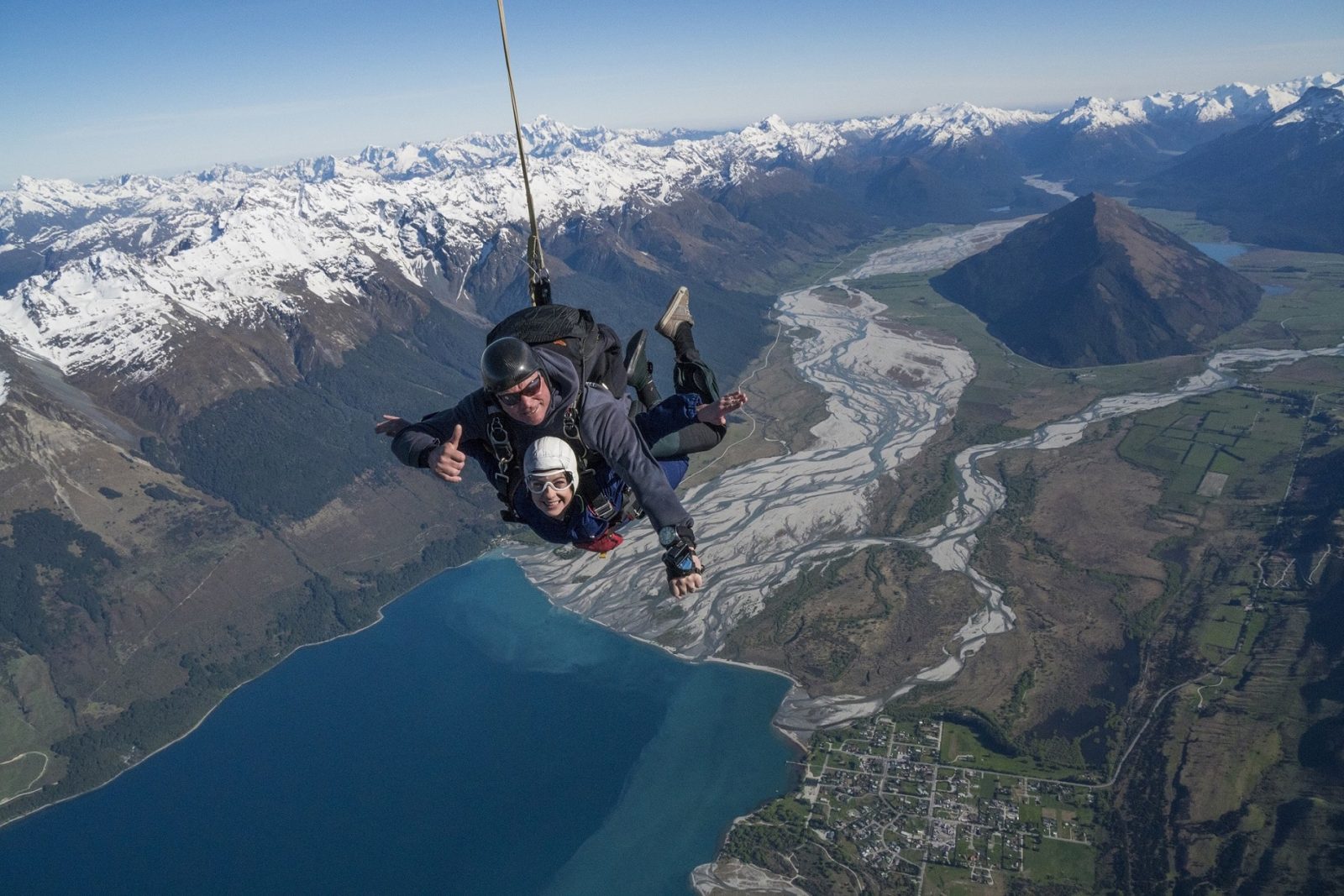 Media release from Skydive Southern Alps
Boundless skies, New Zealand's most stunning alpine scenery and an authentic appeal to the adventurous are the hallmarks of a freshly-branded skydive company.
For the past five years the former Skydive Paradise has been playing little brother to its older and bigger sibling NZONE Skydive.
Now Skydive Southern Alps is having its moment in the sun with a brand refresh that reflects and explains what a truly amazing experience Skydive Southern Alps is, targeting the explorers and adventurers among New Zealand visitors looking for the ultimate skydive experience.
Skydive Southern Alps is part of Australasia's fastest-growing tourism company, Australian-based publicly listed company ExperienceCo. The company acquired the Glenorchy-based skydive company when it bought sister operation NZONE Skydive two years ago.
"The grandeur of the scenery as guests jump from a plane 15,000ft above the rugged snow-capped Southern Alps, the braided channels of the Dart River, crystal clear Lake Wakatipu and the gorgeous township of Glenorchy makes this a breath-taking experience," says Marketing Manager Stephen Thompson.
"People who love a sense of discovery are ecstatic about the whole experience, starting with the spectacular 45-minute lake edge drive from Queenstown to the beautiful and remote Glenorchy in the heart of the mountains.
"It's a very personalised trip for small groups shared with a handful of our friendly and highly-experienced flight and ground crew.
"When they get to the dropzone they love the vibe and the natural environment as they prepare to skydive and then share their skydive experience with our staff and other customers.
"And where else in the world do they get to jump over Tolkein's magical Middle Earth, with that birds-eye view of Mt Aspiring and Fiordland national parks?"
Once they've made the leap of faith to leave their perfectly good plane, guests have up to 60 seconds of freefall to take in the 360-degree views from above, appreciating the scale of the 500km-long Southern Alps, the backbone of New Zealand's South Island.
On a clear day they can see as far as Mitre Peak in Milford Sound on the wild West Coast of the island.
For a tempting 'taster' of a Skydive Southern Alps trip click here.
Guests wishing to book their skydive adventure of a lifetime can visit the dedicated new Skydive Southern Alps Shop in Queenstown's Shotover Street.
Picture caption:
1/ Guests on a Skydive Southern Alps jump have up to 60 seconds of freefall to take in stunning mountain, lake and river views