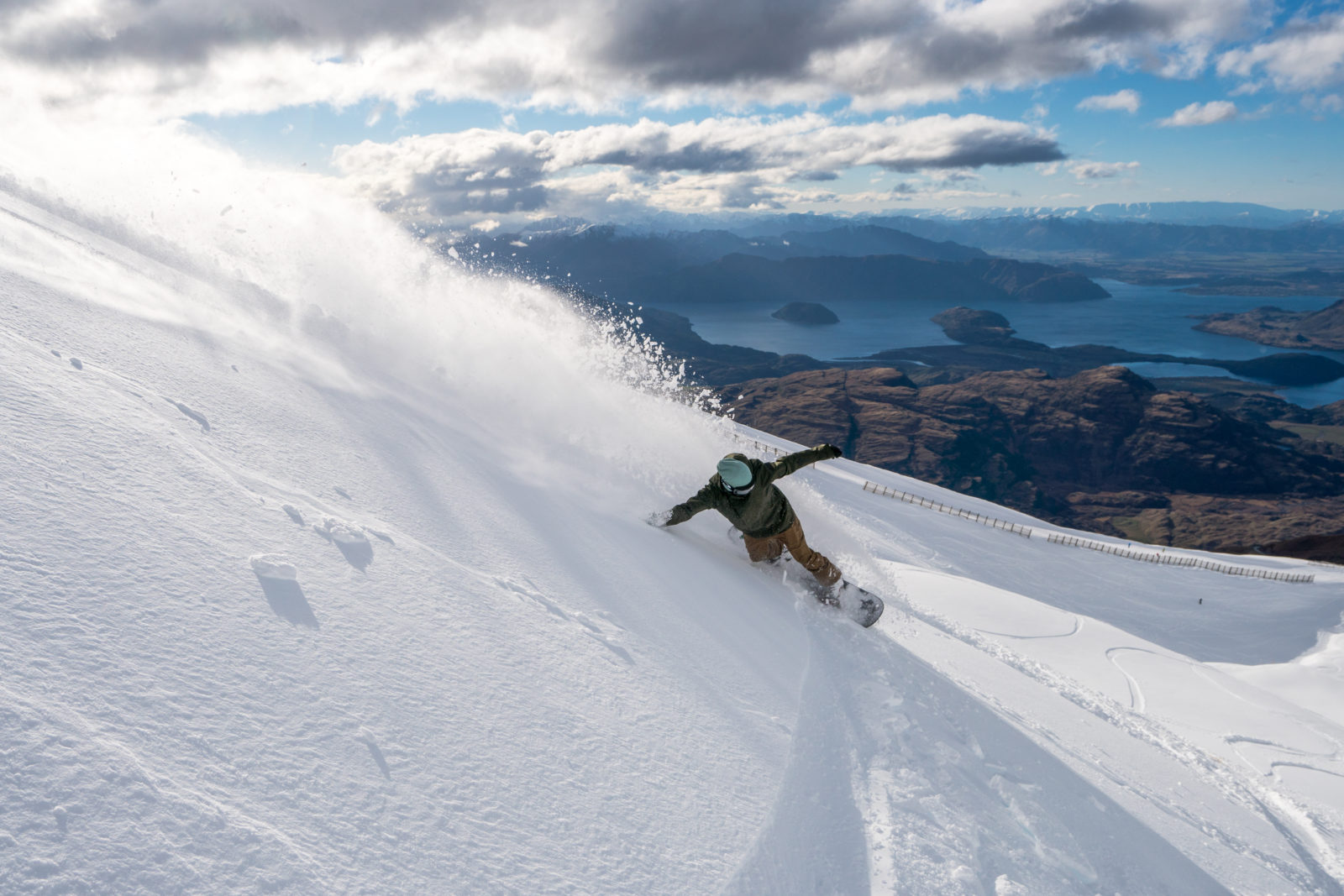 Some of the best freeride and ski race coaches in the world hit the slopes at Wanaka's Treble Cone this winter, joining internationally-renowned instructors at the mountain's Snowsports School.
Local young skiers (and snowboarders) can take skill levels and confidence up a notch or three with full and part-time children's development programmes throughout the season.
Two-time New Zealand Freeride Athlete of the Year Sam Lee joins Team TC as head freeride coach for the first time, in something of a coup for the mountain.
His solid competition results around the world — including a podium in Alaska in 2017 — secured him a spot on the Freeride World Tour in 2018 and 2019. As well as coaching Team TC this winter he'll be coaching the NZ Freeride Team.
Sam will coach alongside Louis Charnaud, who has instructed all over the world including New Zealand, Japan, USA and Switzerland. Louis also competes in Big Mountain skiing in the Freeride World Qualifier events.
Meanwhile head ski race coach Michael Shenkel is no stranger to Treble Cone's slopes, embarking on an impressive 24th season at TC in 2018.
Mike holds USSA National Coach Level 400 and PSIA Level 3 qualifications and has had a long and successful career of ski race coaching in New Zealand and the States, with 72 seasons under his belt.
Yes, he loves his US mountains, but TC is his 'favourite' when it comes to leading the coaching team and seeing the progression and growth of kids on and off snow.
Meanwhile, youngsters aspiring to work their way up to Team TC level have plenty of other ski and snowboard packages and lessons to choose from.
Already renowned worldwide for Mother Nature's natural bowls and challenging upper-mountain runs, in recent years the much-loved ski area has developed rewarding intermediate terrain.
It's unique among Southern Lakes ski areas in having a Northwest-facing learners and beginners area alongside the base building, bathed in sunshine and warmth all season-long and perfect for those having their first 'on-snow' experience.
TC's renowned Snowsports School delivers superb value lessons and packages range from tailored learn to ski and snowboard packages to high intensity adult packages that sell out year after year.
Littlies happily start their time on the slopes with a Ski School Kitty Cat Lesson for five-and-unders including a one-hour rental, one-on-one lesson and all-day learner lift access for just $99.
A full-day solution for families is a child lesson (ages 6 to 17) which includes drop off from 9am, two group lessons, lunch and pick up at 4pm (rentals and lift additional).
School holidays are a breeze with five-day school camps starting on July 9, July 16 and July 23 for youngsters wanting to hone ski race, freeski or snowboarding skills. Camps include two group lessons daily and are a steal at just $499 per camp (a saving of $171 on full retail child group lesson prices).
Treble Cone's official Burton Learn to Ride Programme provides specialised snowboard equipment designed to smooth the transition from beginner to intermediate rider.
TC's much-loved Riders and Sliders and Riders (for kids aged from four to 17) and Sliders Mini (three and four-year-olds ski only) runs for six consecutive Sundays from July 29.
For Wanaka, Queenstown and Central Otago parents (and others!) Treble Cone's premium ski improvement and development camps for adults are back after a highly successful 2017 season. Sofa Ski Camps have top hand-picked coaches leading five-day intensive camps suitable for intermediate to expert skiers.
Sofa Ski Camps run over seven weeks throughout the season and two programmes in August are already sold out – so get in quick!
Value-add packages across the board include a Learner Lift Package, Lift Package and Lesson, Progression Package and Learn to Ski Package.
About Treble Cone
Renowned for its 550 hectares of skiable terrain and the longest vertical in the Southern Alps, Treble Cone is the perfect destination for every level of skier or snowboarder.
The sheer size of its skiable terrain, from 30% to more than 50% bigger than surrounding areas, means lift queues are a rarity, even on a powder day, and slopes are wide open and crowd-free.
Access to the mountain in 2018 will be easier than ever with a free TC Mountain Shuttle driving guests from the bottom of the access road straight to the slopes.
Kids under 6 ski or board for free ($20 card fee applies) and there's free helmet rental with every child rental or child lift and rental package, subject to availability. The Magic Carpet and snowplay area remain free to all.
Treble Cone's 2018 season runs from June 28 to September 23. For further information go to www.treblecone.com