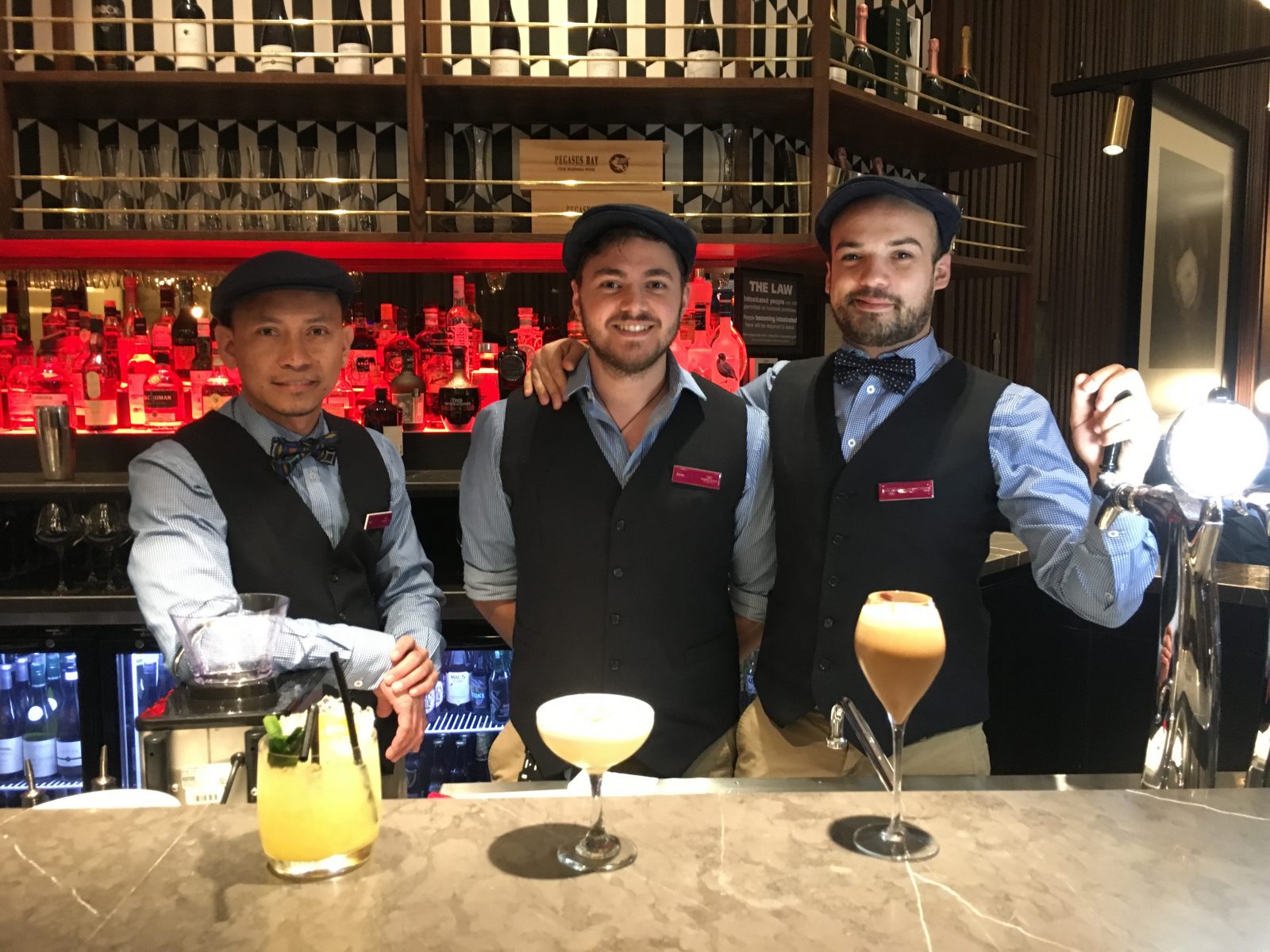 Media release from Crowne Plaza Christchurch
Would you like that shaken or stirred? How about both?? Crowne Plaza Christchurch has lined up 'the best cocktail alchemists of their age' to quench the collective thirsts of the garden city.
Leading this band of 'bar brothers' is Social Wine Bar Manager Kolin Abassi along with Leo Bancale informally known as 'romancer', and Corey Ellis aka the 'local trouble maker'. These lads are literally shaking things up and creating quite the 'stir' around Christchurch's newest cocktail lounge.
When they're not busy concocting limited-edition show cocktails for the recent Christchurch Arts Festival, you can find them competing in globally-recognised cocktail competitions like 'The 2017 Tequila Patron Perfectionists'. It's all in day's work for these cocktail masterminds.
Every year Patron sets out on a worldwide quest and a handpicked cocktail wizard from each representative country goes forth on a trip of a lifetime to the grand finale in Hacienda, Mexico where the overall Patron Perfectionist will be crowned.
After logging many hours after work behind the bar, Leo's formulating has found him in the finals of the New Zealand entries. His 'Taitanic' Mai Tai-inspired cocktail is blended with homemade jackfruit jam and garnished with pandan leaf, or what he likes to call the "vanilla of Asia".
Leo is set to showcase his cocktail in Auckland on 11 October where it will be sipped, inspected and critiqued on all components from originality to aesthetics and of course, the all-important flavour. He hopes it will be more successful than the Titanic's ability to dodge icebergs.
He isn't alone — the bar boys are triple threats with all of them originating from long-standing hospitality backgrounds and award-winning restaurants from around the globe.
Kolin's career started very close to home at his own mother's restaurant in Avignon, France at the tender of 10. Subsequently he chased his passion to London and studied to become a sommelier, qualifying to work in several European Michelin-star restaurants. His habit of darting around the world and leaving broken hearts in the dust gave him the nickname 'fantôme', French for 'phantom'.
"Being a part of the opening of the Social Wine Bar has meant I've had the opportunity to put my own twist on the cocktail menu, giving it a little 'je ne sais quoi'" he said.
"The creative process with the mixology was fun and something we're all very proud of.
"We work really hard on the floor here, but we like to be cheeky and have a lot of fun too, especially with our customers. We're proud of our cocktail menu but enjoy being challenged if customers request something totally unusual."
Leo Bancale is also a well-seasoned globetrotter and has worked in various hospitality and hotel outlets, starting in the Philippines 10 years ago and then moving around Queenstown, Australia, Auckland and now Christchurch.
"I love being on the go and being able to work in such a universal industry has let me work in some pretty cool venues," he said.
"I also picked up some pretty fun flaring skills in Singapore which never fails to draw a bit of a crowd!"
Corey Ellis was drawn to the industry at 18 when he started waiting tables. In no time he scaled the ranks to become maître d' of a 150- guest restaurant before helping open a Jazz and Whisky bar.
"Making people's stay enjoyable is what I get a buzz out of, and I've got to admit I do throw great parties," he said. "Funnily enough my favourite cocktail is a cosmopolitan, I appreciate a well-balanced citrus drink."
The boys' most recent feat is the two show cocktails they invented to help promote Social Wine Bar's partnership as an official bar venue of the Christchurch Arts Festival.
Kolin's concept 'Ziggy Starman' cocktail is a futuristic sci-fi inspired cocktail reminiscent of glam-rock pop icon Bowie himself. It is infused with mint caviar, fresh mint and vodka.
Leo's 'Velvet' cocktail stirred into life from the jazzy, loud disco divas of the Arts Festival's Velvet show and New York's famed cocktail bar, The Clover Club, evoking the bar's atmosphere of vintage glam.
Picture caption:
1/ Crowne Plaza Christchurch Social Wine Bar cocktail alchemists (L-R) Leo Bancale, Corey Ellis and Kolin Abassi