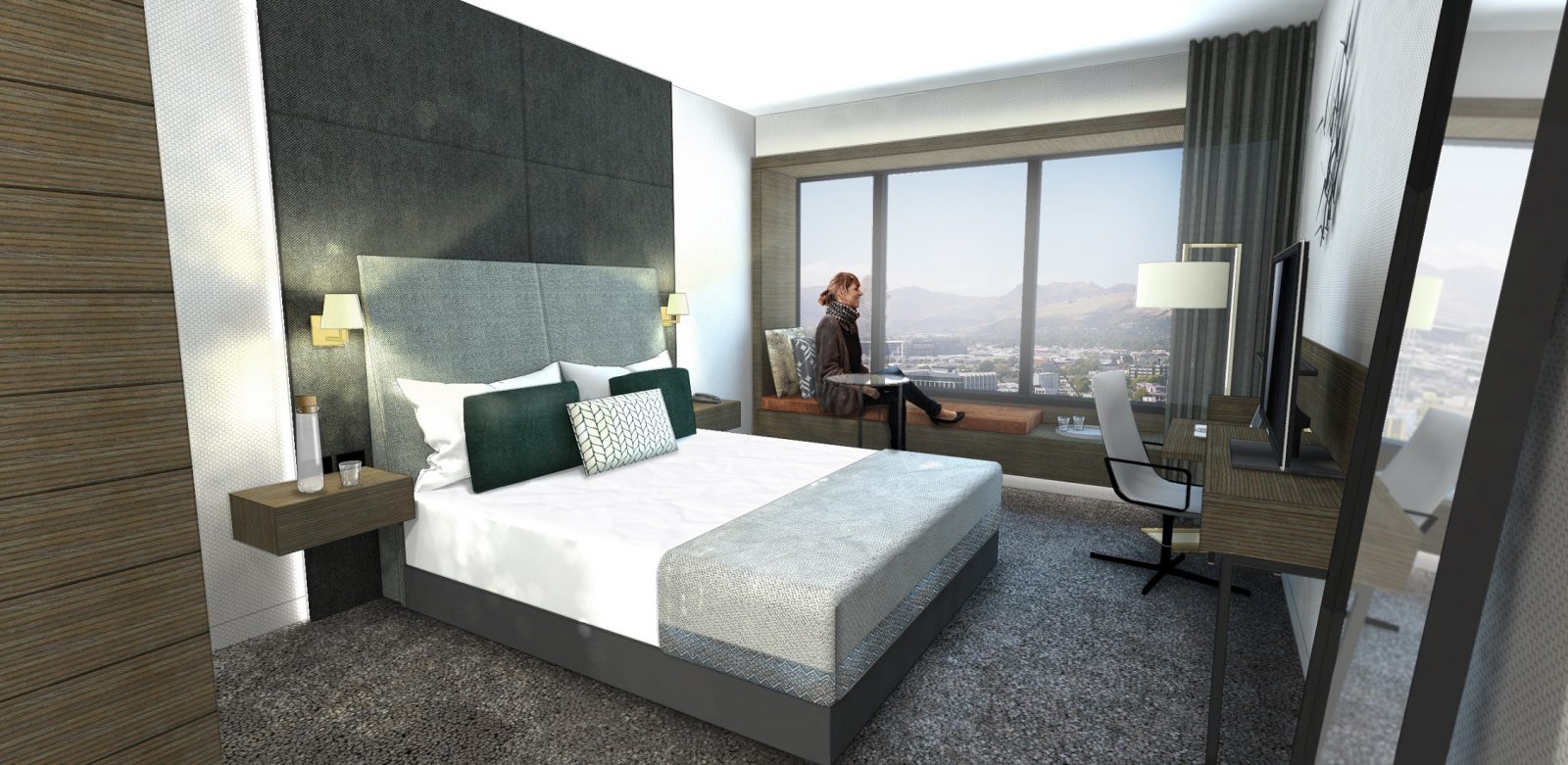 Media Release from Crowne Plaza Christchurch
Rising above the Christchurch cityscape, the new Crowne Plaza Christchurch features 204 spacious and modern rooms, including eight suites, with unique views to the city, coast, hills and Southern Alps.
A number of features in each room are designed to make the most of the scenery. A comfy window seat with cushions invites guests to sit back and take in the views. It's a great spot to relax with a book and a fresh brewed T2 tea.
Thanks to a glass panel between the bathroom and bedroom in some rooms, guests can even soak up the view from the shower. This design also adds great natural light to the bathroom and an electric blind is available to easily restore full privacy. Alternatively, guests can simply request a room without this feature.
Crowne Plaza has selected Rituals products as its premium bathroom amenities, specifically the Happy Buddha range. Guests can also enjoy a touch of luxury with a make-up mirror, dual head shower and large heated mirror featured in every bathroom.
It goes without saying that guests are guaranteed a peaceful night's sleep – with new beds in comfortable 'zen-like' rooms and a range of Executive, Deluxe and Superior configurations from suites to king bed, split king, doubles and wheelchair accessible options.
Thanks to the Crowne Plaza Sleep Advantage programme, with its superb bedding, pillow options and quiet zones, guests are guaranteed to wake up with a smile.
And while the emphasis is on modern classic lighting, and a range of carefully thought-through textiles, textures and colourways in each room, the hotel hasn't scrimped on technology that really works.
Staying connected to the outside world is easy with unlimited free WiFi and Samsung smart TV's complete with Bluetooth connectivity and wireless mobile device mirroring. Several USB ports are also part of the room design, allowing for easy device charging from the bedside table and desk.
"Guests are encouraged to share their travel experiences and enjoy their own digital content from the comfort of their room, just like they would at home," said Front Office Manager Krysten Butler.
Up-to-date hotel information is available from each guest TV, and if they need help setting it up or some assistance during their stay, they're encouraged to call on the hotel's 'tech-savvy' porters or front desk.
"We'll even loan guests cables to connect their device if they need them," said Ms Butler.
For guests who want to catch up on the latest news, the hotel offers free access to over 6,000 magazines and newspapers within the PressReader app. For those who prefer a more traditional approach, free newspapers can also be delivered daily to their room.
With business and conference travellers in mind, each room includes a desk and comfortable office-style chair, making catching up on emails or working on a presentation or business document a breeze.
The new hotel also features Market Place restaurant and bar, Café 1851 on the ground floor, the upmarket Social Wine Bar, hotel library, fitness centre and a range of function rooms.
The property is situated at the corner of Colombo and Armagh streets on Victoria Square, making it an easy stroll to all key attractions and alongside the gently-flowing Avon River.
"Within two minutes' walk from the hotel guests can be exploring the many cafés and boutiques of New Regent Street, strolling through Cathedral Square, taking in the latest Arts Centre exhibition, shopping in the new city centre or visiting the Christchurch Casino," said General Manager Reinier Eulink.
"We can't wait to open the doors to our first guests, making it a hub for business and leisure travellers and a meeting place in the heart of the city for our wider community."
The eagerly-awaited 4.5-star hotel, part of the InterContinental Hotels Group (IHG), will be the largest upscale hotel in the Christchurch city centre when it opens mid-year.
Click here to visit Crowne Plaza Christchurch's website.
Picture caption:
1/ An artist's impression of a room at Crowne Plaza Christchurch