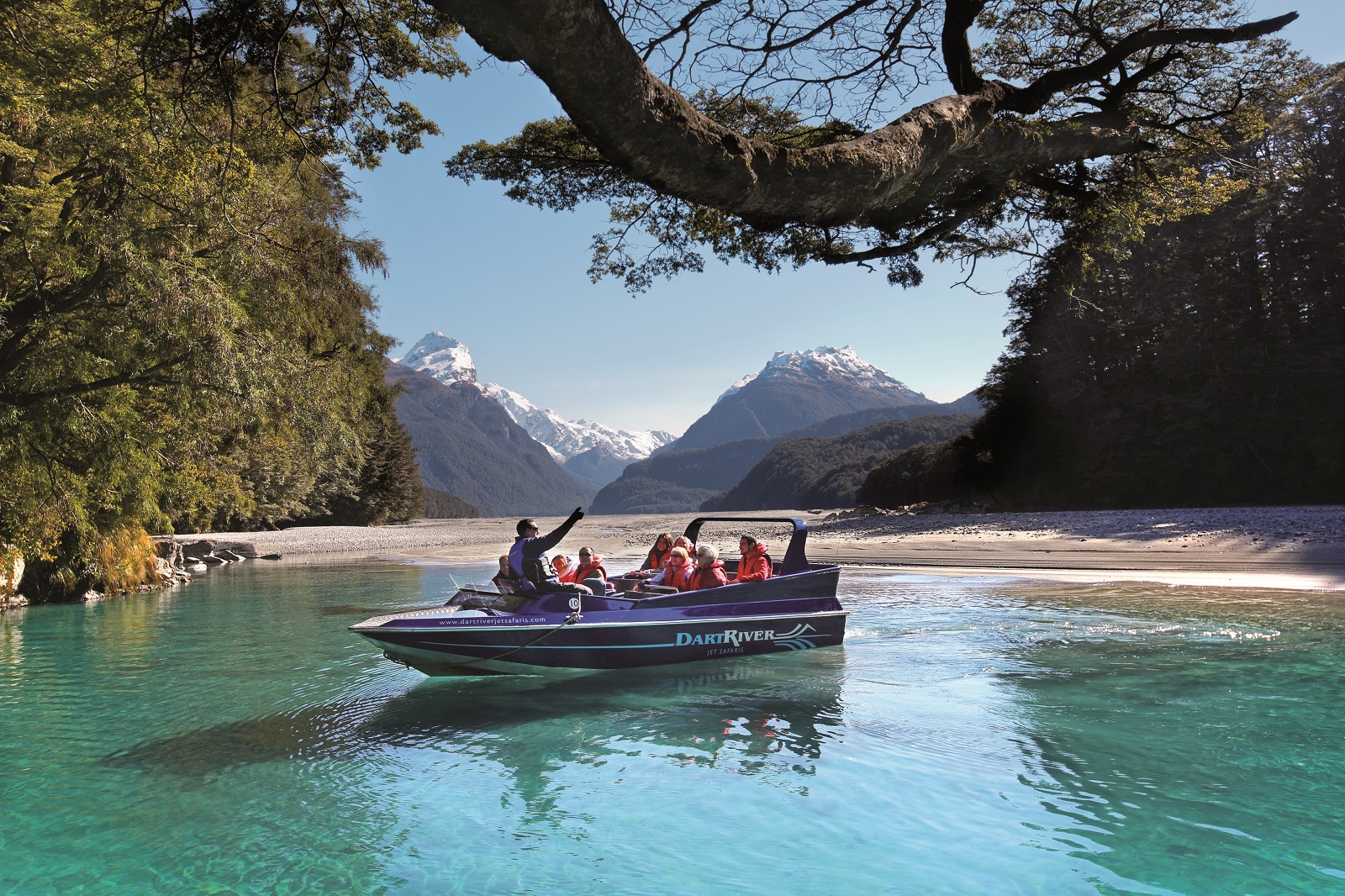 Media Release from Ziptrek Ecotours
Multi-award-winning zipline company Ziptrek Ecotours is showcasing its new partnerships to more than 370 of the world's leading travel buyers at New Zealand's biggest international tourism event.
Still flying high after seven successful years in business, and a recognised leader in zipline innovation and sustainable business practice, Ziptrek Ecotours sought out equally environmentally-conscious businesses for its latest combos.
As a result, they now offer the ultimate air, water and land-based packages for visitors to Queenstown, ensuring eco-credentials translate to positive experiences for visitors and locals. The three combos were all individually chosen for what they would add in value and experiences for guests.
The hugely popular Zip & Wilderness combo neatly packages up a Ziptrek Adventure, soaring to new heights 'zipping' through the trees above Queenstown, with a Dart River Wilderness Jet journey from Glenorchy at the head of Lake Wakatipu deep into Te Waipounamu World Heritage area of Mt Aspiring National Park.
Both experiences offer a unique combination of breathtaking scenery and exhilaration, and Ziptrek Ecotours is "delighted" to be working with Dart River thanks to a shared passion for environmental sustainability and protection.
Dart River Business Manager Harald Ulriksen said they were delighted to be working with Ziptrek.
"Both experiences have a natural affinity with nature and our environment," he said.
The Zip & Kiwi combo combines a Ziptrek tour of the visitor's choice with entry to the Kiwi Birdlife Park just a short walk from the zipline base. The combo with the park, which has over five acres of forest sanctuary, has proved extremely popular as it "tells the story of New Zealand".
Ziptrek Ecotours already has a close relationship with the park since sponsoring a brand-new reptile wing to house its collection of rare and endangered wildlife, in particular tuatara and critically-endangered Otago and Grand skinks.
"This is a great example of us working with other businesses to help tell the New Zealand story," said Ziptrek Ecotours Executive Director Trent Yeo.
"There's continued interest in eco-tourism and we aim to be at the forefront of that, gaining the type of visitor who wants to see and experience the 'real' New Zealand and not just go shopping!"
That philosophy also sits well with the company's third combo on offer – Zip & Ride. The combo is the perfect choice for those wishing to explore the region by air and land. After being taken to new heights with a gravity-driven Ziptrek Moa or Kea tour, guests can take to 'pedal power' with Around the Basin to discover parts of the region unreachable by car, meandering past lakes, rivers, the historic village of Arrowtown or through stunning wineries.
At last year's TRENZ, Ziptrek used world-leading virtual reality video technology to bring its exhilarating zipline tour to buyers, a move that proved "hugely popular".
Buyers were able to immerse themselves in the world of Ziptrek by donning the latest Samsung VR headset which literally 'put' the buyer on the company's framed treehouses, zipping downhill and able to look around them at the stunning views as they did so.
"It was incredibly successful at getting people to feel what it is like to fly through the trees and see the majesty of our tree architecture in context," said Mr Yeo.
"We've continued to use the headsets for overseas sales trips, as a tool for staff training and even in our Queenstown store to give people a 'taste' of the trip before booking. Watch this space for more!"
Leading the way in zipline innovation and sustainable business practice, Ziptrek Ecotours launched in New Zealand in November 2009 and since then has completed nearly three-quarters of a million zips through the forest canopy on 'gravity fed ziplines'.
Click here to visit Ziptrek Ecotours' website.
Picture caption:
1/ A Dart River Wilderness Jet journey is part of a popular Zip & Wilderness combo with Ziptrek Ecotours