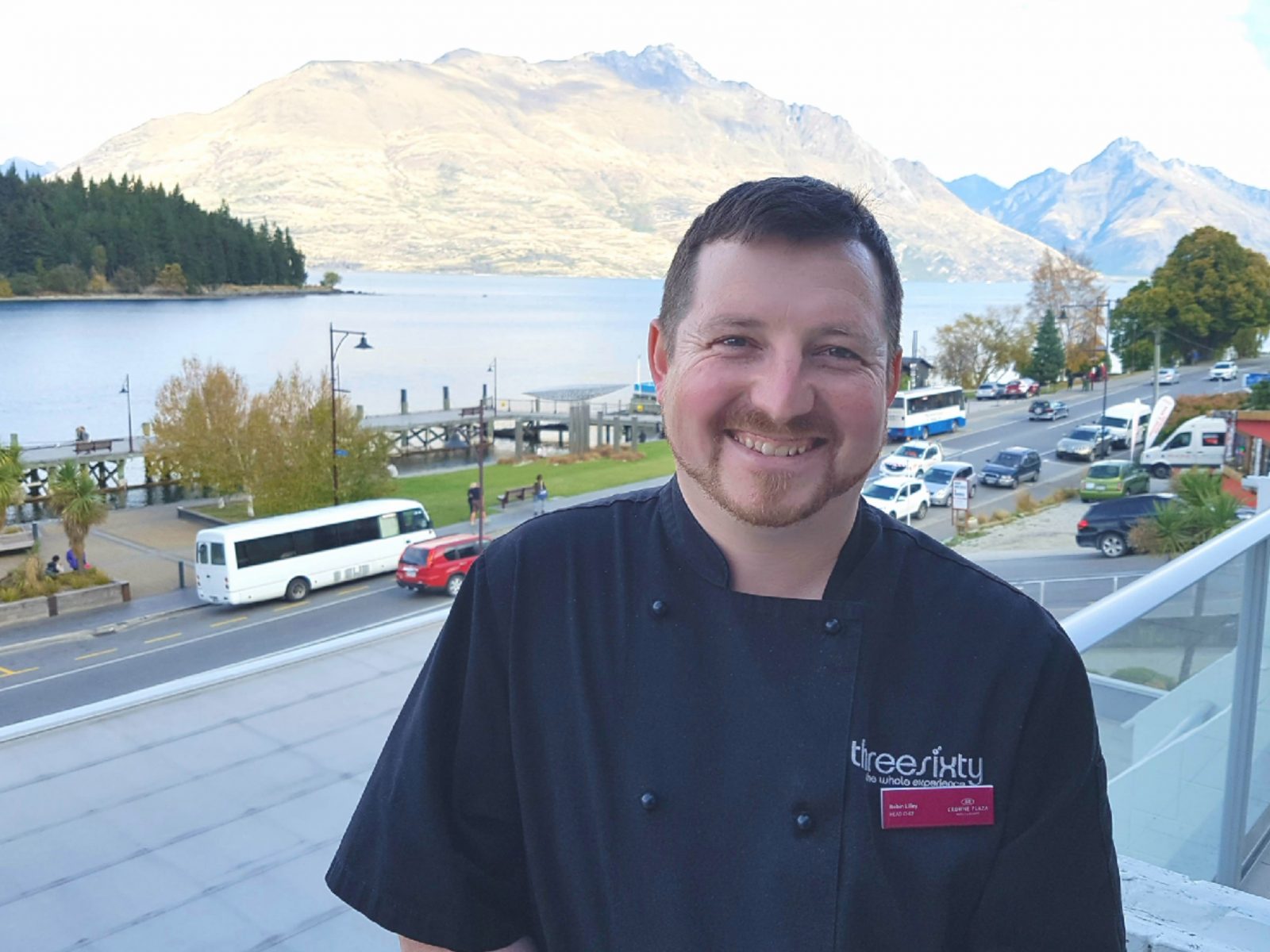 Media release from Crowne Plaza Queenstown 
More than a decade of travel and culinary adventures has come full circle with the appointment of Robin Lilley to the position of head chef at Crowne Plaza Queenstown.
The Canadian-born chef is looking forward to showcasing his knowledge of international cuisine as he takes up the position at threesixty restaurant, renowned as one of Queenstown's best restaurants and bars.
Chef Robin, 34, most recently worked for eco-tourism company Heritage Expeditions, where he spent a year as head chef aboard the 50-passenger Spirit of Enderby as it visited Antarctica and the east coast of Russia.
"I got to travel in the best regions in the world," he said. "There were some very interesting moments too – one day we delayed serving breakfast so everyone on board could watch four polar bears breakfasting on a walrus!"
After his stint on the Enderby, Chef Robin went on a self-styled "culinary adventure" through Europe, visiting Austria, Russia and Germany among other countries, before returning to Queenstown where he had worked in a variety of chef roles at hotels and restaurants over a six-year period.
At threesixty, Chef Robin is overseeing delivery of the restaurant's existing autumn menu while planning a range of hearty winter dishes for hungry skiers and snowboarders, a fantastic European-feel après ski offering.
"I'm excited to adapt my knowledge of international cuisine to the role, looping back to my roots and taking influence from my Canadian heritage," he said.
"New Zealand has a very ethnically diverse food offering and our menu is a showcase of everything that New Zealand has to offer culturally.
"We'll serve hearty favourites like beef cheeks and braised ribs with fresh produce sourced from our own "backyard", inspired by the freezing winters in Banff, where I'm from.
"A European-feel après ski environment will showcase mulled wines, and local craft beers will invite guests and locals to socialise over sharing plates and reminisce about their favourite ski moments."
Chef Robin said designing banqueting menus for the conference and incentive market was a "speciality".
"I plan on revamping the banqueting menus with a modern-twist encompassing trending foods and creating exciting alternatives for dietary requirements."
He said he was delighted to join the InterContinental Hotels Group (IHG) for the first time.
"IHG nurtures staff and offers employees room to grow and develop skills, and I see Crowne Plaza Queenstown as an opportunity to gain more experience in one of the most beautiful settings in the world."
Crowne Plaza Queenstown General Manager Anna Edie said Robin's knowledge of international cuisine was a perfect fit for threesixty.
"We look forward to welcoming diners to experience mouthwatering dishes from across the globe – all while sampling the very best of the regions wines," she said.
The property has recently completed a half a million-dollar refurbishment offering a fresh new look for guests including new furniture and carpets in its public areas, restaurant and bar, and conference spaces.
Conveniently located in the heart of Queenstown's visitor, retail and business district, Crowne Plaza Queenstown's ground-floor threesixty restaurant is the perfect place to sit back, relax and enjoy breakfast, lunch and dinner, High Tea, or a good coffee.
Click here to visit Crowne Plaza Queenstown's website.
Picture caption:
1/ threesixty restaurant new head chef Robin Lilley at Crowne Plaza Queenstown