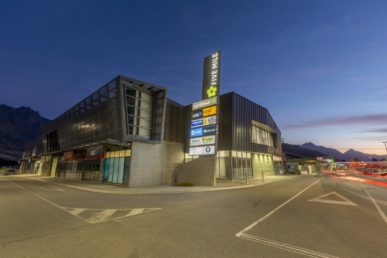 Media Release from Five Mile Retail and Business Centre
Queenstown's newest and most exciting retail and business centre is going from strength to strength with the addition of new retailers and increased levels of business activity.
The recent New Zealand school holidays saw a marked increase in traffic to Five Mile, an expanding retail centre sitting at the gateway to Queenstown on the Frankton Flats.
Pizza chain Dominos — renowned for its high-quality pizzas, sides and chicken at an affordable price – opened in Five Mile Place last week with its second store in the Queenstown district.
Family clothing chain Postie Plus also opened at Five Mile over the holidays, offering its full range of women's, men's, children and beauty ranges, as well as school clothing and accessories.
At the other end of the spending spectrum, a full display suite for Remarkables Residences, a range of three to five-bedroom multi-storey townhouses, recently opened at Five Mile.
The homes will be built just minutes away from Five Mile in the expanding Frankton Flats zone. To cater for interest in the development, the display suite is open 10am to 4pm daily with local realtors Sheryl Williams and Mark Martin from Bayleys Queenstown available to meet potential buyers.
This week, American-based specialist gaming store EB Games is to open at Five Mile, bringing its unique brand of gamers pop culture to Queenstown for the first time.
EB Games and Zing Pop Culture Operations Manager Karl Pearson said he was thrilled to bring the store to Queenstown.
As the centre expands, it has welcomed news of a new public bus service to and from Five Mile which will enable visitors and locals to visit more frequently and at a heavily-subsidised price.
The proposed new service will be operated by the Queenstown Lakes District and Otago regional councils and is expected to start this spring. Buses will run every 15 to 30 minutes in peak times and an introductory $2 fare is to be trialled across all zones for GoCard users and a free transfer within 30 minutes.
For the first time, Five Mile will have its own bus stop on Grant Road, between the centre and the roundabout on State Highway 6. Route tracking is still being finalized but Five Mile is seen as "key" to the network as it sits on an arterial link within the Queenstown district. Three of the four routes are proposed to come via Five Mile.
Five Mile Centre Manager Eric Nauta said the bus service would be very welcome as the centre had been "choc-a-bloc" since the school holidays.
"The centre's now a hive of activity with outdoor parking at a premium over peak periods, although the hundreds of free, fully lit and warm underground car parks are something of a 'locals hack' for those in the know.
"We've certainly noticed that ever since Dominoes opened there's been a stream of people venturing into other businesses while they wait for their pizzas!"
Anchor tenants The Warehouse and Countdown have also helped draw visitors to the centre.
Countdown opened in stage one close to two years ago along with retail outlets previously unseen in Queenstown such as Briscoes, Rebel Sports, Warehouse Stationary and Number One Shoes. Countdown is open from 7am to 10pm daily, while the country's largest retail giant The Warehouse, open until midnight daily, opened at the end of March.
The Warehouse opened with a new store that was 25% bigger than its previous location, offering customers a wider range of goods and services, improved flexibility and longer opening hours.
Five Mile currently has 31 retail outlets and nine office-based businesses, and continues to expand.
Businesses are as diverse as insurance giant AMI, hairdressers Hair On Five Mile, the Five Mile Pharmacy, Café Society, Hikari Sushi, Helloworld, Noel Leeming and the recently-expanded Bed, Bath & Beyond.
For locals and workers at Five Mile there's the convenience of a childcare centre, a health store and juice bar for those keeping fit and well, two physiotherapists, laundromat, dry cleaner and even a nail bar.
"Five Mile really does have something for everyone," said Mr Nauta. "It's an enjoyable and relaxed shopping experience, centrally located and with over 1000 free car parks, a true 'one-stop-shop' for locals and visitors.
"The good news is that it continues to expand with more outlets opening and a further development stage expected to start later this year."