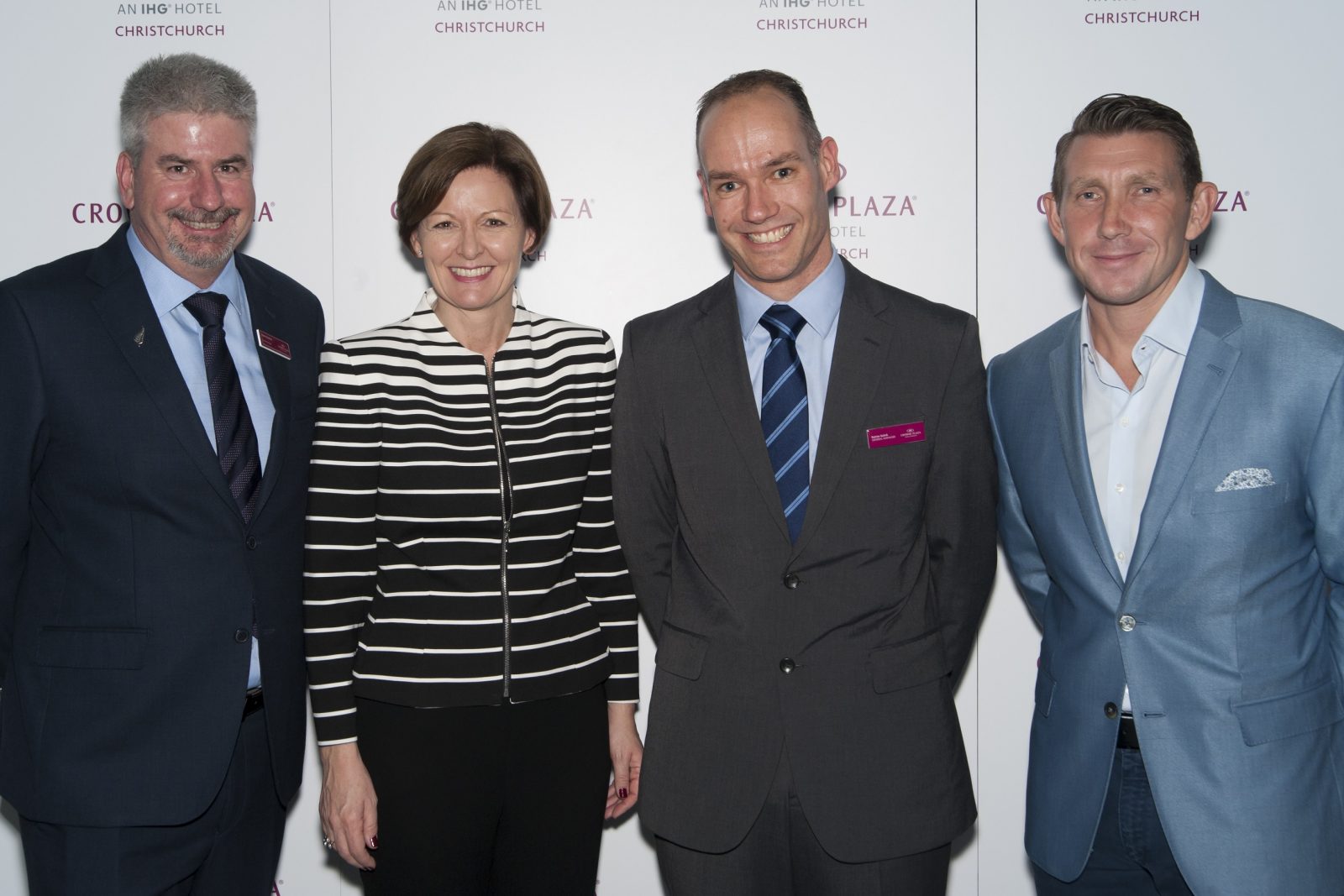 Media Release from Crowne Plaza Christchurch
Paying homage to the past while celebrating the future was the theme of Crowne Plaza Christchurch's opening event.
More than 100 guests celebrated at the launch party which acknowledged the hotel's history while looking forward to the resurgence of the "city of opportunity".
Guest speakers included the Hon Nicky Wagner, MP for Christchurch Central and the Associate Minister of Tourism, along with Christchurch Mayor Lianne Dalziel.
They were joined by Alan Watts, InterContinental Hotels Group Chief Operating Officer for Asia, the Middle East and Africa, and building co-owner Shane Le Compte of local investment and development company MC Christchurch Holdings.
The scene was set as a Victorian-style paperboy greeted guests at the hotel door before making their way up to Market Place restaurant and bar. The hotel sits on the site of Christchurch's first hotel, the Golden Fleece, established in 1851.
Guests were treated to champagne and canapés on arrival, followed by dishes flowing throughout the night from the Market Place fishmonger, butcher, cheesemonger and patisserie stations mirroring the Market Place of old – known to Cantabrians today as Victoria Square.
COO Alan Watts, who started his hotel career in Christchurch, said the re-opening of Crowne Plaza was among a number of milestones to get Christchurch back on the map and he had wanted to celebrate with the city.
"I felt a little bit emotional seeing the Crowne Plaza signage on this building," he told guests. "General Manager Reinier Eulink and his team have done a stunning job in getting this hotel open and operating to the standard we see today.
"I think it's going to be as good and as much of a landmark as the former Crowne Plaza, where I started my career. We'll open 20-something hotels this year, and none more important than this one."
Mayor Lianne Dalziel said the city had long been known as New Zealand's Garden City and the experience of the past seven years had enabled it to re-imagine itself as a city of opportunity.
"Christchurch is a place where anything is possible and you feel that in this building," she said.
Building co-owner Shane Le Compte, attending the launch with his family, simply said "welcome to our place".
"We're returning an iconic Christchurch landmark to the city," he said.
MP Nicky Wagner said it had been a "privilege" to listen to the wisdom and passion of everyone involved with the hotel project.
"It's a beautiful refurbishment and re-purposing, and it's full of energy," she said.
"It's an important milestone for Christchurch to open a new hotel and welcome an international brand. We're delighted that you've brought us 204 extra beds because we need them!
"Thanks to Crowne Plaza and thanks to Shane and your team for creating this building that's good for Christchurch, good for Canterbury and good for New Zealand."
The new Crowne Plaza Christchurch is situated on the corner of Colombo and Armagh streets opposite Victoria Square.
Picture caption:
1/ Celebrating the launch of Crowne Plaza Christchurch were (L to R) IHG Area General Manager NZ Tim Pollock, IHG Australasia and Japan COO Karin Sheppard, General Manager Reinier Eulink and Alan Watts, IHG COO for Asia, Middle East and Africa