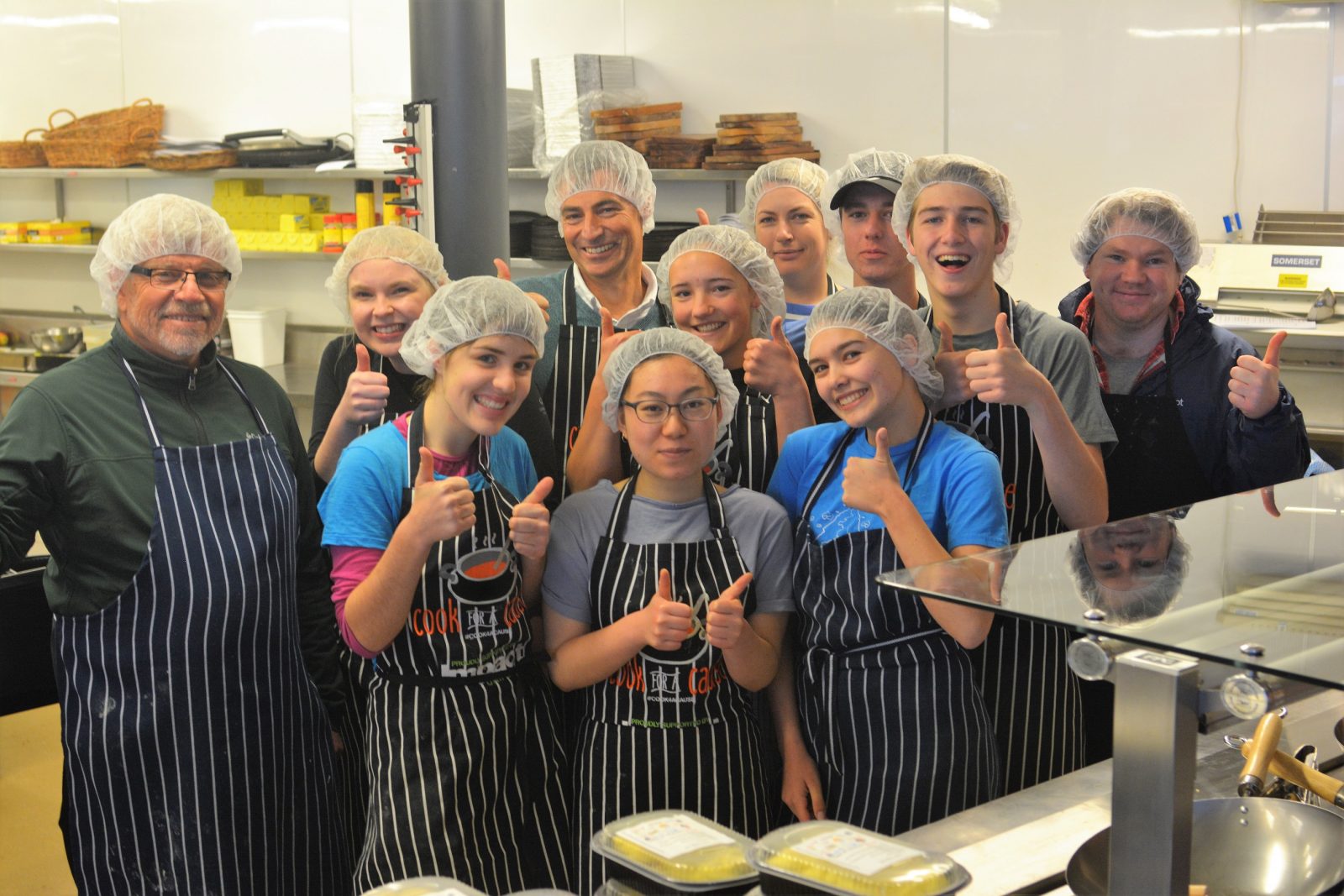 Media release from Wakatipu High School 40 Hour Famine
Six thousand meals for families in need around New Zealand and more than $14,000 raised for Syrian children displaced by war.
That was the end result for a group of young student leaders from Queenstown's Wakatipu High School who did themselves and their community proud with their innovative 40 Hour Famine fundraiser which finished today (Sunday June 11).
Tired but hugely proud of their achievements, the 19 students declared it "a wrap" earlier this morning as final meals were boxed up and transported for freezing and distribution to City Missions in Christchurch, Wellington and Auckland, as well as Queenstown's own Happiness House.
The clock is still ticking on donations through their Wakatipu High School World Vision Cook for a Cause fundraising page which will continue to take donations for another three or four weeks to support World Vision's child-friendly spaces in refugee camps in Jordan.
But for now the Year 11 to 13 students have headed home for some well-earned rest before school tomorrow.
The scale of their cook-a-thon, using the generous donation of Coronet Peak ski area's commercial kitchen, with the support of Coronet Peak's culinary team and top chef Mark Gregory, was huge.
Using Chef Gregory's recipes for Shepherd's Pie, Thai Chicken and Coconut Rice, and Spiced Apple cake, the students romped through:
400kg of beef
225kg of chicken from Brink's
320kg of potatoes from Raeward Fresh Queenstown
96kg of butter and 25kg grated cheese from Dairyworks NZ
70 litres of milk and 25 litres of cream
1,000 eggs
150kg of rice, flour and endless dried and tinned goods from Countdown Queenstown
25kg bacon from Hellers
More than 500 apples donated locally by individuals from Glenorchy to Alexandra
$2,000 donation to buy food from Direct Safety
Donations and support from Bidfood Queenstown
Countdown Queenstown answered a last-minute call for help to mince all the beef, and Packaging Plus and Big Chill were essential to the whole operation in providing all containers and packaging, and chilling and delivering the meals around the country.
With the major meal components either donated or sponsored by these New Zealand companies, all money raised can be directed to help the millions of Syrian refugees forced to flee their homes in search of safety.
World Vision says the money will help re-establish the basic needs of refugees and supply them with things New Zealand families take for granted, like clean drinking water and a safe place for children to be children.
World Vision NZ CEO Chris Clarke and Syria Response Director for World Vision Wynn Flaten visited the students over the 40-hour project and helped package and label food.
Mr Clarke said the "real magic of the idea" by the Queenstown students had really caught their imagination — cooking for families in need in New Zealand while also raising money for Syrian refugees.
"The Syrian children we're helping were once just like these students; they had school, friends and comfortable houses," he said. "Now they're living in garden sheds and have nothing, so we're helping them come to terms with trauma and kick-starting their education again. Over five million children are refugees from Syria."
Mr Flaten said he was "overwhelmed" by the commitment of the youth of New Zealand to the cause. "Our concern is that the world's attention is being drawn away from the Syrian situation, but it's something we shouldn't forget," he said.
Wakatipu High School teacher Penny Hearn, who has mentored the students over many months to help deliver their fundraiser, said she was thrilled with the end result.
"It' an overwhelming feeling that we actually did it," she said. "The support that we've had from around the region and nationally, I just don't know how we can thank everybody enough for what we've achieved.
"We couldn't have done it without that support. Queenstown is a pretty amazing community to be a part of."
Mrs Hearn also singled out staff at Coronet Peak as "top notch".
"It was a real pleasure dealing with them in the lead up to the event and throughout the 40 hours," she said.
Donations are still welcome over the next few weeks on the Cook for a Cause fundraising page www.worldvision.org.nz/fundraising/team/cook-for-a-cause/40-hour-famine
Picture caption:
1/ Just some of the students and staff who 'cooked for a cause' at Coronet Peak this weekend. (L to R) Back row: Chris Clarke, Penny Hearn, Jordyn Clark. Middle row: Beatrice Onions, Elsie Anderson, Hugh Taylor, Harley Hamilton. Front row: Wynn Flaten, Lana Stevenson, Mio Akiyama, Lexi Rosemoore