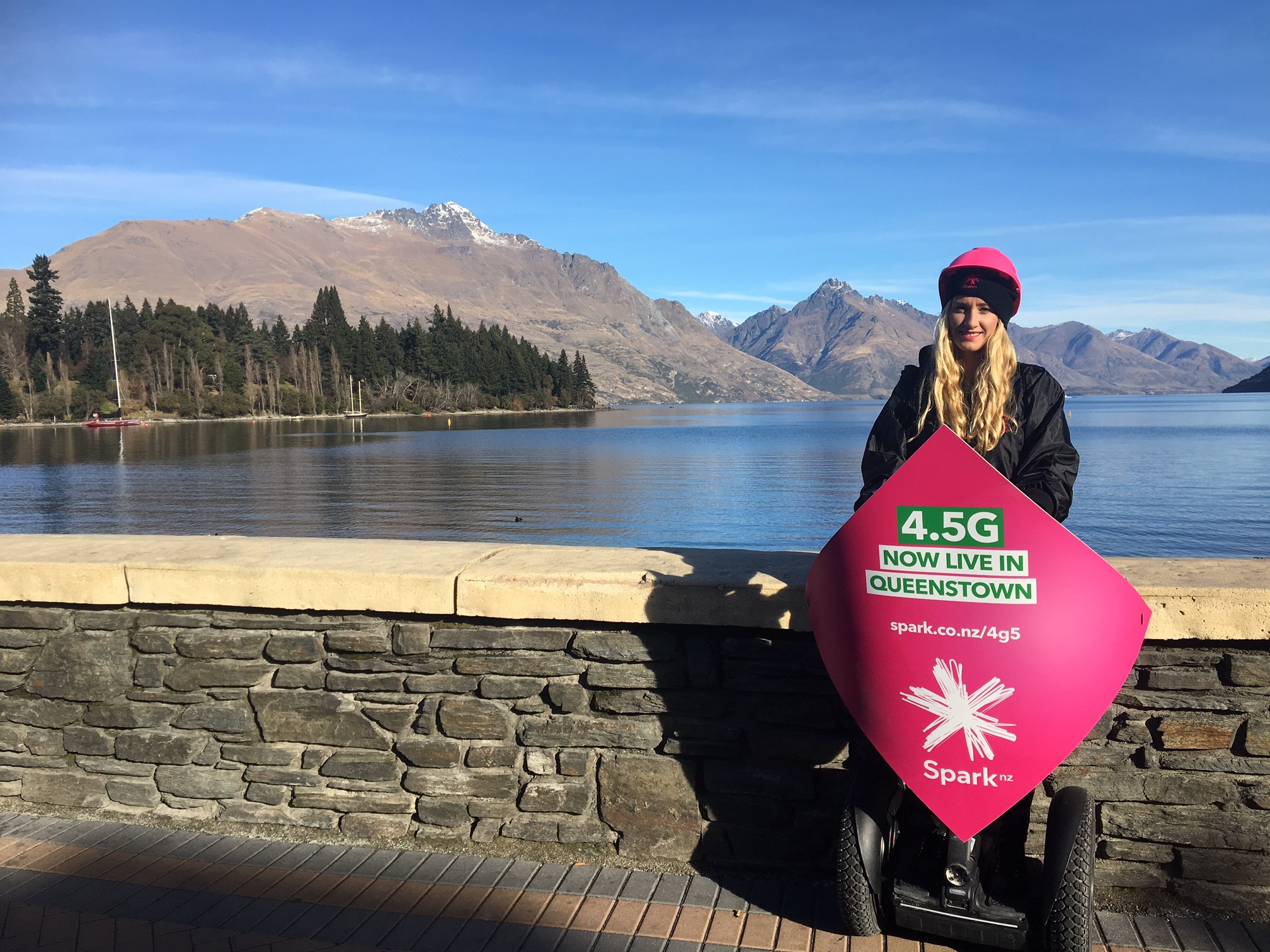 Media release from Spark New Zealand
Spark announced today that Queenstown has become the town capable of getting the fastest mobile data speeds in the country, as 4.5G is switched on across five mobile towers in the area.
Queenstown CBD, Frankton, and Arrowtown, and some areas in between are all covered by the next-generation network.
4.5G is the next generation of mobile technology, capable of delivering more capacity and faster speeds, and giving people more connectivity options.
Key Facts:
5G can deliver up to 3-5 times more speed and capacity than 4G from a single mobile tower to compatible devices
Spark plans to deliver 4.5G to 10 more towns in the next 12 months
Over 53 terabytes of mobile data used in Queenstown in May 2017, around half of this was video streaming – the equivalent to watching over 7000 hours of High-Definition streaming on Lightbox or Netflix
More capacity will improve Spark's Wireless Broadband product, with the potential for higher speeds as devices catch up into the future
$4.5K for 4.5G: To celebrate the launch, Spark is giving away free data spot prizes, Samsung Galaxy S8 smartphones, and a grand prize of $4,500
The launch of 4.5G in Queenstown follows single-tower deployments covering limited areas in the Christchurch CBD and Silverdale, Auckland last year, but this is the first time the technology has been activated on a cluster of towers to deliver the improved capability to a wider geographic region.
The upgrade puts the Spark network slightly ahead of devices, with no commercially available modems or phones supporting the entire range and combination of 4.5G features at the moment.
However, most new high-end phones support many 4.5G features, which propels their speeds to between three and five times faster than regular 4G. Real-world testing in Queenstown has been delivering over 400 megabits-per-second (Mbps), and specialised equipment reached a peak speed of 1.15 gigabits per second (Gbps) in Christchurch last year. Actual speeds may vary based on device being used and load on the tower the customer is connected to.
The launch will also deliver plenty of new capacity, allowing Queenstown residents to benefit from Wireless Broadband as an alternative to fixed-line services for low to moderate data users of home broadband. Wireless Broadband from Spark gives people high-quality broadband (with or without a landline), but by connecting to the nearest cell site rather than over a fixed line laid to their house.
To celebrate the Queenstown launch, Spark will be on the streets of central Queenstown on Tuesday 20 June with free data bundles and the chance to win a new Samsung Galaxy S8 or a grand prize of $4,500.
Spark Chief Operating Officer, Mark Beder, says the deployment is an important stepping stone to 5G, which is likely to become commercially available sometime in the next few years.
"4.5G is an important part of our strategy because it helps us prepare for a 5G future today, keeping up with the changes in the ways people will use wireless technology over the next few years. Because 4.5G combines a range of radio spectrum and uses it more efficiently, we can provide more capacity and speeds to our customers, allowing them to do more.
"Queenstown is the tourism capital of New Zealand, surrounded by marvellous mountains and the gorgeous Lake Wakatipu. The region's world-class adventure and relaxation activities create experiences that are tailor-made for sharing, and deserve a world-class network to do it on.
"New Zealanders have an insatiable demand for data and data-driven products, and Queenstown is right up there. Spark's Peninsula Hill is in the top ten busiest sites for data use in the country, and in May over 53 terabytes of mobile data was used in the region. Around half of this was for streaming video, which is the equivalent of streaming over 7000 hours of High-Definition video on Lightbox or Netflix. Spark deploying 4.5G enables and supports this – it means people can do more, stay in touch with friends and family, and provides more options for fast, high-quality Wireless Broadband," said Beder.
Spark is committed to providing the important infrastructure that New Zealand needs to compete in the new digital economy, and intends to continue to deliver more 4.5G around the country. Ten more towns are to be activated with 4.5G within the next 12 months, alongside Spark's ongoing 4G upgrade and deployment programme.