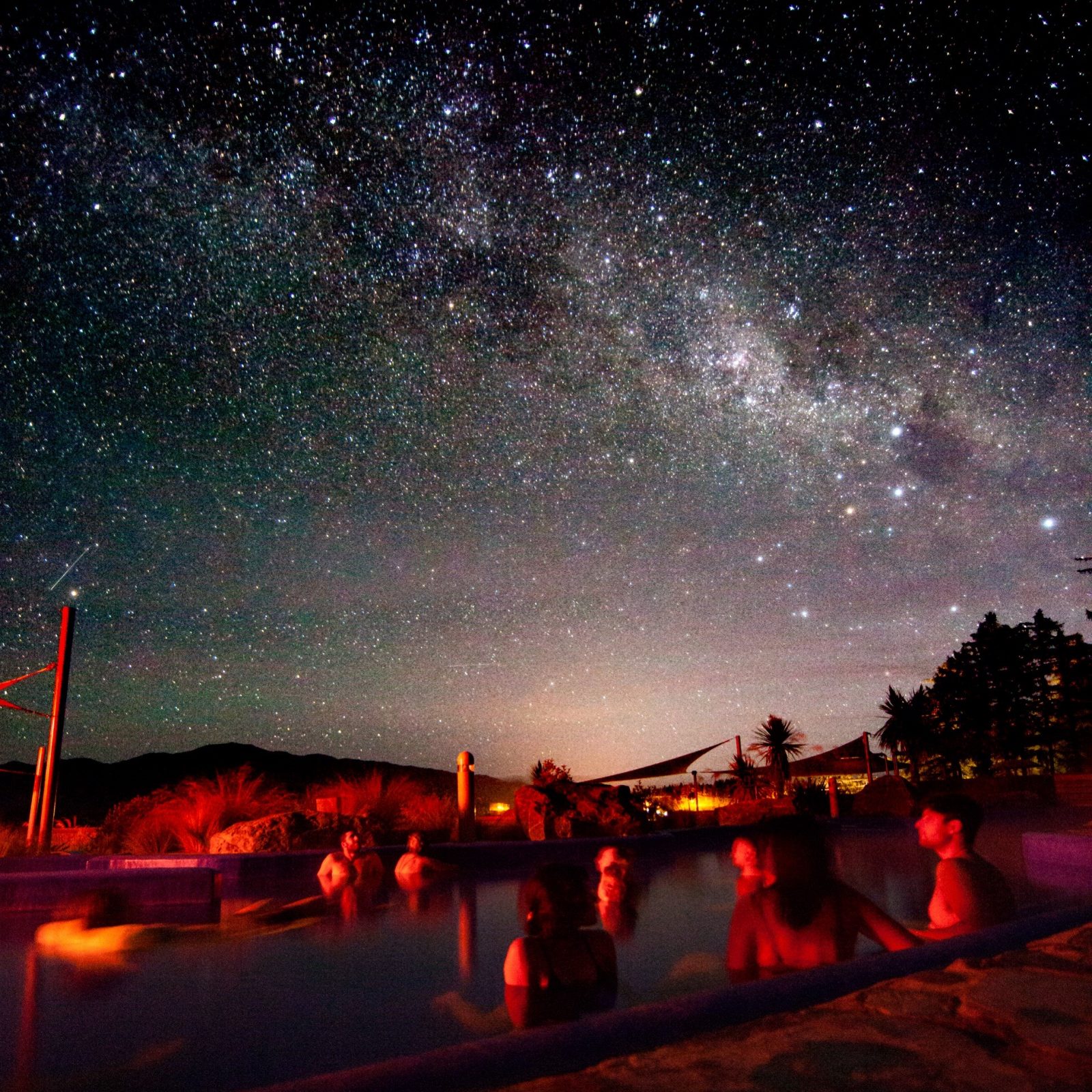 Media Release from Tekapo Springs
The introduction of star gazing tours married with the launch of new pools have put Tekapo Springs firmly on the global tourism map.
Star gazing tours in one of the world's top 'clear sky' locations was launched by Tekapo Springs in New Zealand's Mackenzie country just two months ago, taking viewing the Southern night sky to whole new levels.
Development of stargazing tours followed on from a multi-million-dollar investment into two new pools and an aqua play area at the complex, bringing the total number of pools to five.
Both investments have ensured the multi-award-winning South Island tourism attraction, renowned for its innovation and continued business developments, continues to be at the forefront of 'must-do' activities for visitors.
Tekapo Springs owner Karl Burtscher said Tekapo Star Gazing had been "extremely well received" by international and domestic visitors as it combined the top two attractions in Tekapo.
The tours take advantage of the fact that the tiny township of Tekapo sits within the world's largest international dark sky reserve (4144sq km), only the fourth such reserve in the world.
They incorporate a 40-minute guided night sky tour with trained star guides followed by a 40-minute soak in the hot pools. Guides continue to give information, answer questions and 'story tell' on request, while guests chill out to relaxing astro music. Guests can also get closer to the stars and planets by looking through one of three powerful telescopes installed at the pools.
"Developing a product that marries our beautiful Southern night sky with a visit to the relaxing Hot Pools makes for an exceptional experience," said Mr Burtscher.
"Visitors have called it an 'out of this world experience' or said they felt like they were floating in space, and our guides have been praised for being so knowledgeable about some of the closest and brightest features in the night sky such as stars, planets, constellations, and galaxies."
Mr Burtscher said bookings were highly recommended as some tours were booked out well in advance.
"Even if the weather's not perfect for star gazing, our guides provide an indoor audio visual about the night sky using the same content, with a high definition projector screen and astro photos and videos," he said.
"It makes the tour an all-weather attraction, and we even have a cosy open fire to warm up the night too!"
The tours will operate on a winter schedule until October 31 with tours departing seven nights a week at 9.30pm (Mandarin-speaking), 10.30pm (English tour) and 11.30pm (both languages). The latest tour will also cater for visitors who like astro-photography.
From November 1 tour times change to 10.30pm, 11.30pm and 12.30am.
Last year Tekapo Springs also officially launched its new pools to great acclaim, proving "hugely popular" with visitors and locals and resulting in a significant increase in visitor numbers.
"We now have two busy seasons both summer and winter," said Mr Burtscher.
"The pools are popular throughout the year, perfect for visitors in summer who want to relax while enjoying views of the lake and surrounding mountains, while in winter they're a magical escape for visitors day or night.
"We just keep adding more and more reasons to visit Tekapo Springs including our winter ice skating rink, winter snow tubing and a huge inflatable summer waterslide."
Tekapo Springs is a year-round attraction nestled on the shores of stunning Lake Tekapo, beloved by visitors from all around the globe and winner of multiple tourism awards. The new pool additions – themed 'High Country Tarns', each with its own distinctive shade of aqua green – are part of Tekapo Springs' long-term growth strategy for expanding its aquatic attractions and offering a wider range of water temperatures and features.
Click here to visit Tekapo Springs' website.
Picture caption:
1/ A stunning display of stars and constellations lights up the night sky for Tekapo Star Gazing at Tekapo Springs