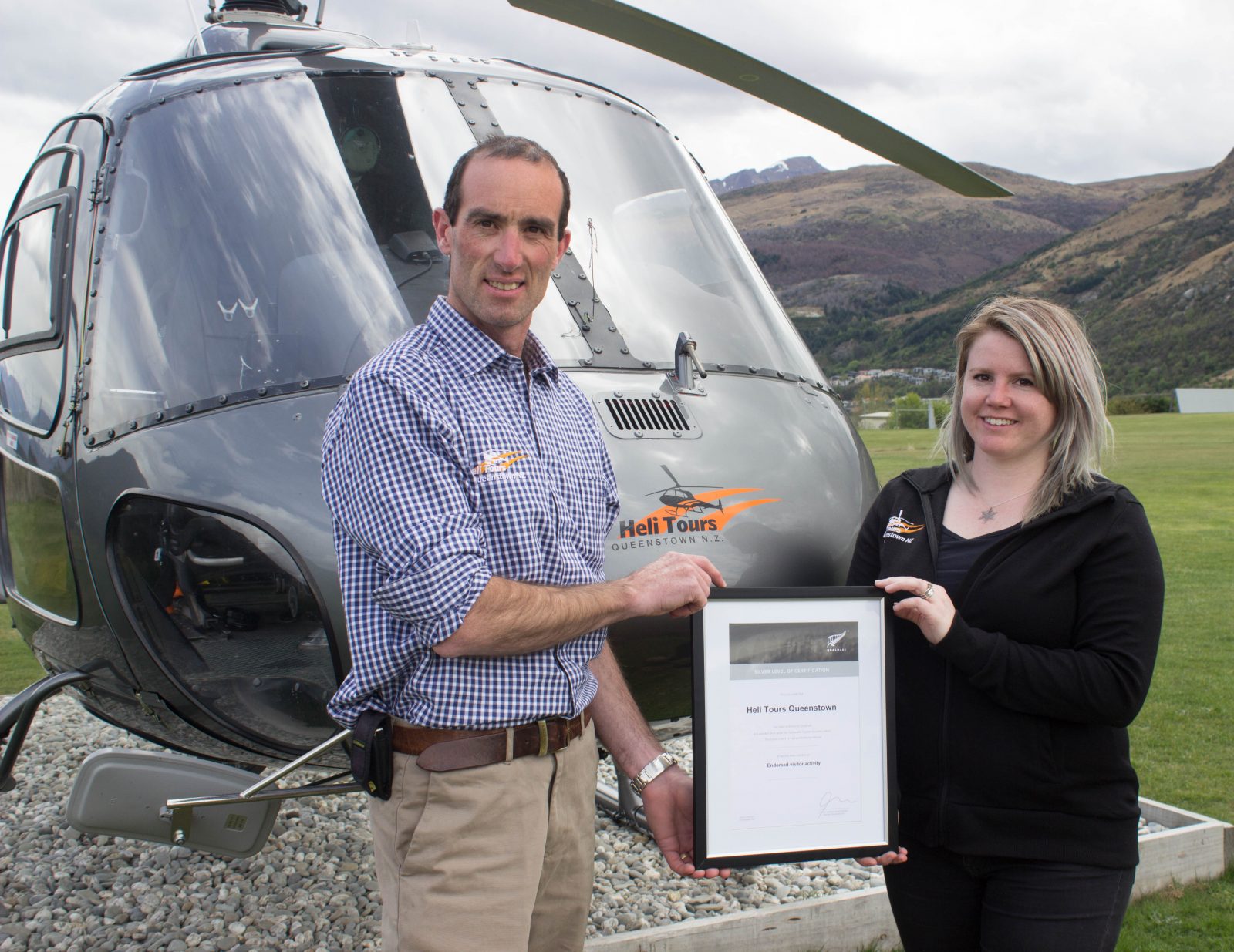 Media Release from Heli Tours Queenstown
Queenstown commercial scenic flight provider Heli Tours Queenstown is celebrating after being recognized as one of the highest-quality, safe and sustainable tourism businesses in the country.
Heli Tours Queenstown is the only private and locally-owned helicopter company flying from the resort town, owned and operated by proud South Islanders Paul and Katherine Mitchell.
This month the company has been thrilled to receive a Qualmark Silver award on its first application for a Qualmark accreditation, following a process Paul Mitchell said had been "extremely beneficial" in putting the business under the magnifying glass.
Businesses are assessed on four key sectors — health and safety, sustainable and environmentally friendly practice, social hospitality and the economic operations of the company.
Following the intense evaluation, businesses can be awarded bronze, silver or gold.
Heli Tours Queenstown has been operating in Queenstown for seven years, and Mr Mitchell said they were delighted with the Silver award.
"Qualmark Silver enables us to benchmark our business against other tourism operators throughout the country and continually strive to be the best," he said.
"When visitors see that Qualmark branding they know that operation is safe, delivers a fantastic customer experience and customer service, and is reliable. They know they're in good hands."
"The whole accreditation process makes you look at your business from the outside in, and now we have the assessors report we know we can fine tune it with some very small improvements that can make all the difference."
Mr Mitchell said he believed a Qualmark accreditation helped secure a long-term sustainable position for the tourism industry by protecting what made New Zealand unique and desired.
The couple say they love to showcase and inspire visitors with their extensive knowledge of, and passion for, their beautiful 'backyard'.
Currently operating three helicopters, Heli Tours Queenstown has the widest range of landing concessions available to any Queenstown-based helicopter businesses, after being granted an historic 18-year permit multi-conservancy concession for heli landings just two years after setting up in business.
It was the first of its kind permitted by the Department of Conservation and enables the company to make the most of a range of options for helicopter landings throughout Otago, Southland and Canterbury for recreation or tourism activities.
It's scenic flights and activities on offer include alpine snow and glacier landings, Milford and Dusky Sound trips, wine tours, high and low-adrenaline adventures, relaxing scenic spa and picnic activities, and personalised custom tours.
"More and more of our guests, no matter what country they're from or their background, want the 'new luxury' of an authentic, genuine experience, really engaging with locals and learning about the area," said Katherine Mitchell.
"That can be anything from seeing the family farm, escaping the crowds, to meeting a winemaker or going for a hike.
"They don't have to be big trips, but we know we've done our job when they leave feeling like they've made a friend."
Heli Tours Queenstown operates from its base at Queenstown International Airport.