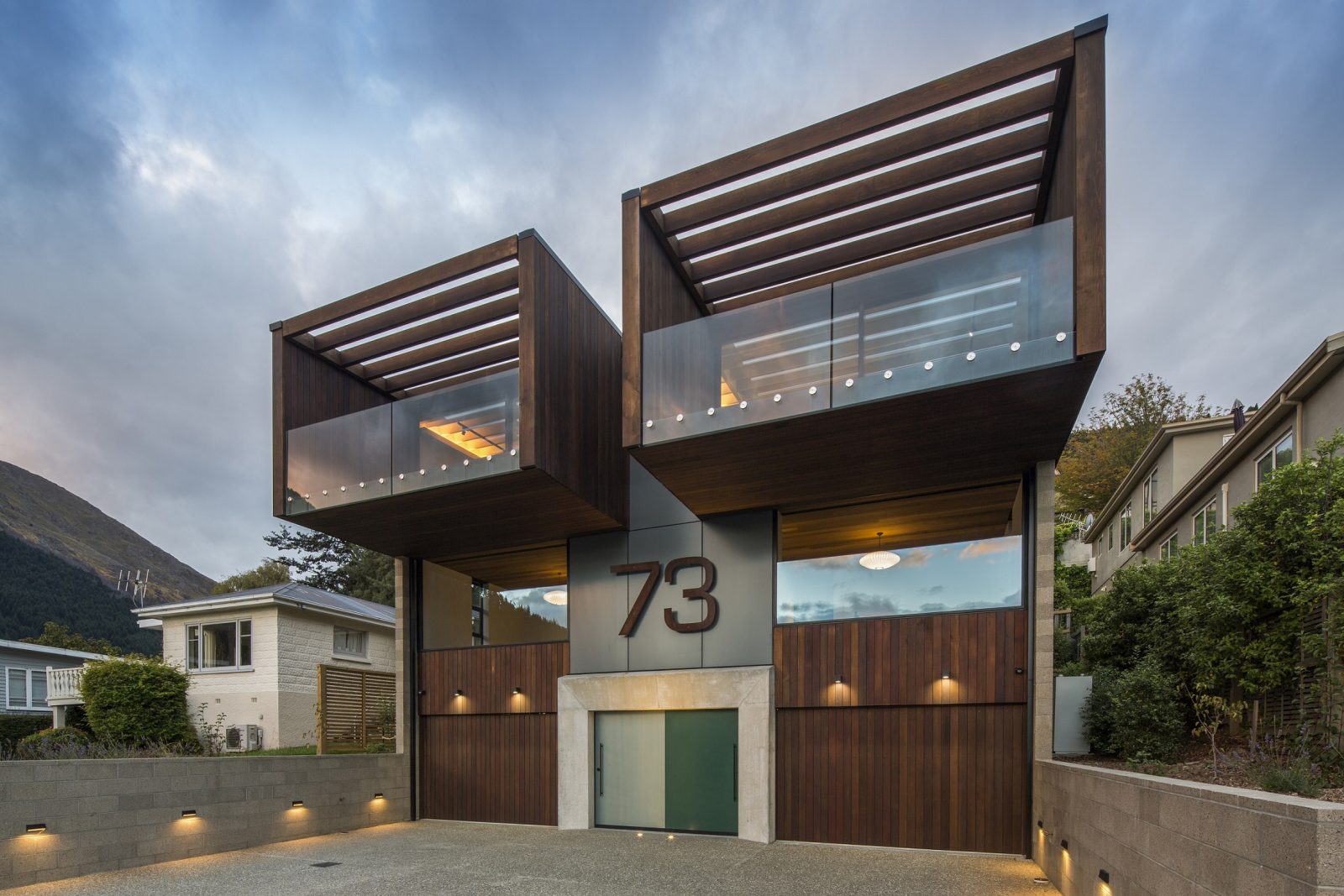 Media Release from Bennie Builders
A house renowned in Queenstown as "that binocular house with the large numbers" has made a statement of a different kind after winning a top regional building award.
The three-level duplex in Queenstown's Hallenstein Street – looking down over the town centre, towards Lake Wakatipu and the mountains beyond – won a Gold and Local Category Award in the Multi-Unit New Home category at the Southern Region Registered Master Builders House of the Year competition.
The house was constructed by Arrowtown-based Bennie Builders, which has been building homes in the district for the past seven years.
Bennie Builders features the husband-and-wife team of registered Master Builder and Level Two licensed building practitioner James Bennie, and practicing solicitor Mia Bennie.
The architecturally-designed 'lock up and leave' apartments offer those staying at the property a feeling of sophisticated solitude, even though they are just a stone's throw from the buzzing town centre.
Features in the open plan interior are a delightful surprise, including tongue and groove ceilings, honed block work and polished concrete floors.
Director James has 17 years' experience in the building trade and has worked on large commercial projects and residential builds in Queenstown for 13 years'.
Director Mia specialises in the company's resource management and consent processes including procurement on land purchases for spec builds.
James said the award meant a lot for the company as it recognised the "hard work of his team".
"Master Builders House of the Year is a longstanding, established and tough competition, and it's also great recognition for the client that Bennie Builders has delivered an award-winning product," he said.
"It's technically a very difficult build made more demanding with the tight and busy location.
"There are many bespoke elements of the steel and timber finishings which have been handcrafted specially for their spaces.
"The building process involved many changes as the property went up. Our clients wanted to build a property that reflected how they lived. Our aim was to manage our subcontractors and respond to those changes and as quickly and effectively as possible to ensure client desires were met."
Since 2015, the company has received three Master Builders awards.
Picture caption:
1/ Peering out over Lake Wakatipu like a pair of cedar-clad binoculars – the award-winning home from Bennie Builders of Arrowtown