2019 Communications Strategy Template
The ability to communicate is vital to the success of any business no matter the type, size or location. It's important to remember that communication doesn't just happen, it must be planned, developed, and implemented. To help you on your way, we've created a FREE 2019 Communications Strategy Template! Simply email [email protected] for your full template copy or grab a cuppa and enjoy the snippet below.
2019 COMMUNICATIONS STRATEGY STEP 1: SUMMARY
Firstly, it's useful to say why you're developing a communications strategy and what you want to achieve.  Keep it short and simple – bullet points may be easier.
EXAMPLE:
This communications strategy shows how effective communications can:
Help achieve our overall business objectives
Engage effectively with our online audience
Communicate project updates to stakeholders
Change negative perceptions
2019 COMMUNICATIONS STRATEGY STEP 2: ANALYSE YOUR CURRENT SITUATION
Before nailing down a strategy, you need to take a look at your current situation. Take a step back and look at what's working, what are your challenges and identify your key competitors. You should start by outlining what's your business, what you do, your main functions and where you operate.
PEST ANALYSIS:
Use a PEST analysis to identify 'big picture' opportunities and threats for your business. This involves analysing the political, economic, social and technological aspects to your business. Some things to think about:
When is the next election – will new policies impact my business?
How stable is the current economy – what impacts could this have on my business or my customers?
Are generational shifts in attitude going to affect my business?
Are there any new or emerging technologies that could positively or negatively affect my business?
SWOT ANALYSIS:
Next you should look internally and write a brief overview of current strengths, weaknesses, opportunities and threats to your business with a SWOT Analysis. Some things to think about:
What does my business do better than anyone else – what makes us unique?
How could we improve?
What causes us to lose sales/customers?
Are there new trends could we use to our advantage?
COMPETITOR ANALYSIS:
Take a moment to list your top competitors and analyse the channels they use to communicate, what works and what doesn't work?
2019 COMMUNICATIONS STRATEGY STEP 3: ORGANISATIONAL GOALS
Your communications strategy should closely reflect your overall business plan. You need to look at your organisation's overall vision and decide how communications can help deliver these goals.
EXAMPLE:
BUSINESS OBJECTIVE 1:
Support our local community through a number of socially and ethically responsible initiatives.
COMMUNICATIONS OBJECTIVE 1:
Send out regular communications to community and industry leaders with updates on our initiatives.
COMMUNICATIONS OBJECTIVE 2:
Regularly showcase community initiatives in the local/regional media.
COMMUNICATIONS OBJECTIVE 3:
Create regular social media advertisements to promote our initiatives and community partnerships.
2019 COMMUNICATIONS STRATEGY STEP 4: TARGET AUDIENCE
Next you need to analyse your audiences. You should create a document with detailed descriptions of your audiences (both external and internal). These might include the public, community members and staff.
EXAMPLE:
WHO: Australian audience
DESCRIPTION: Australian parents aged 32 – 50 with school-aged children who have not used our services before. They have an interest in travel but may have never visited Queenstown.
2019 COMMUNICATIONS STRATEGY STEP 5: KEY MESSAGES
The next step is to break down your objectives into relevant messages for each of those audiences. Remember that your messages should be relevant and appropriate to the audience.
EXAMPLE: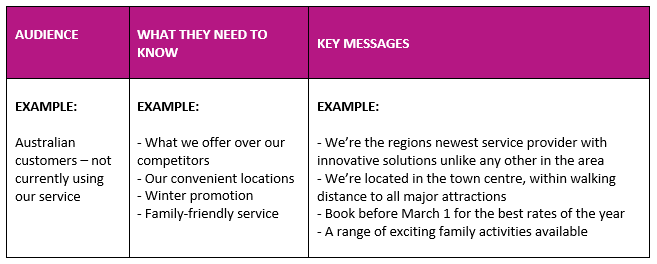 2019 COMMUNICATIONS STRATEGY STEP 6: COMMUNICATION CHANNELS
For each audience identified above, you should now indicate the most appropriate channels for communicating with them. Some channels include:
Earned media via print media channels
Earned media via digital channels – social media, bloggers, influencers, online stories
Owned channels – website, blogs, newsletter
'Rented' channels – social media (Facebook, Instagram, Twitter, YouTube)
Paid social media advertising
Paid print advertising
Local community ambassadors – community groups and partner pages
Business networking opportunities
Staff communications channels – meetings, memo board
EXAMPLE:

2019 COMMUNICATIONS STRATEGY STEP 7: PLAN OF ACTION
Now it's time to bring it all together! With your audiences and key communications methods identified, the next step is to draw up a simple table that indicates the key communications activities for the year.
EXAMPLE:

2019 COMMUNICATIONS STRATEGY STEP 8: MEASURING AND REPORTING
What does long-term success look like? You need to indicate the tools you will use to evaluate various sections of your communications strategy. These could include:
Number of responses to EDM's
Hits to your website
Increase in social media engagement
Increased sales/bookings
Improved community sentiment
Sounds like a lot of work? The truth is, building a successful communications strategy isn't a five-minute job. Need a hand? get in touch to find out how we can help devise a tailored communications strategy for your business!