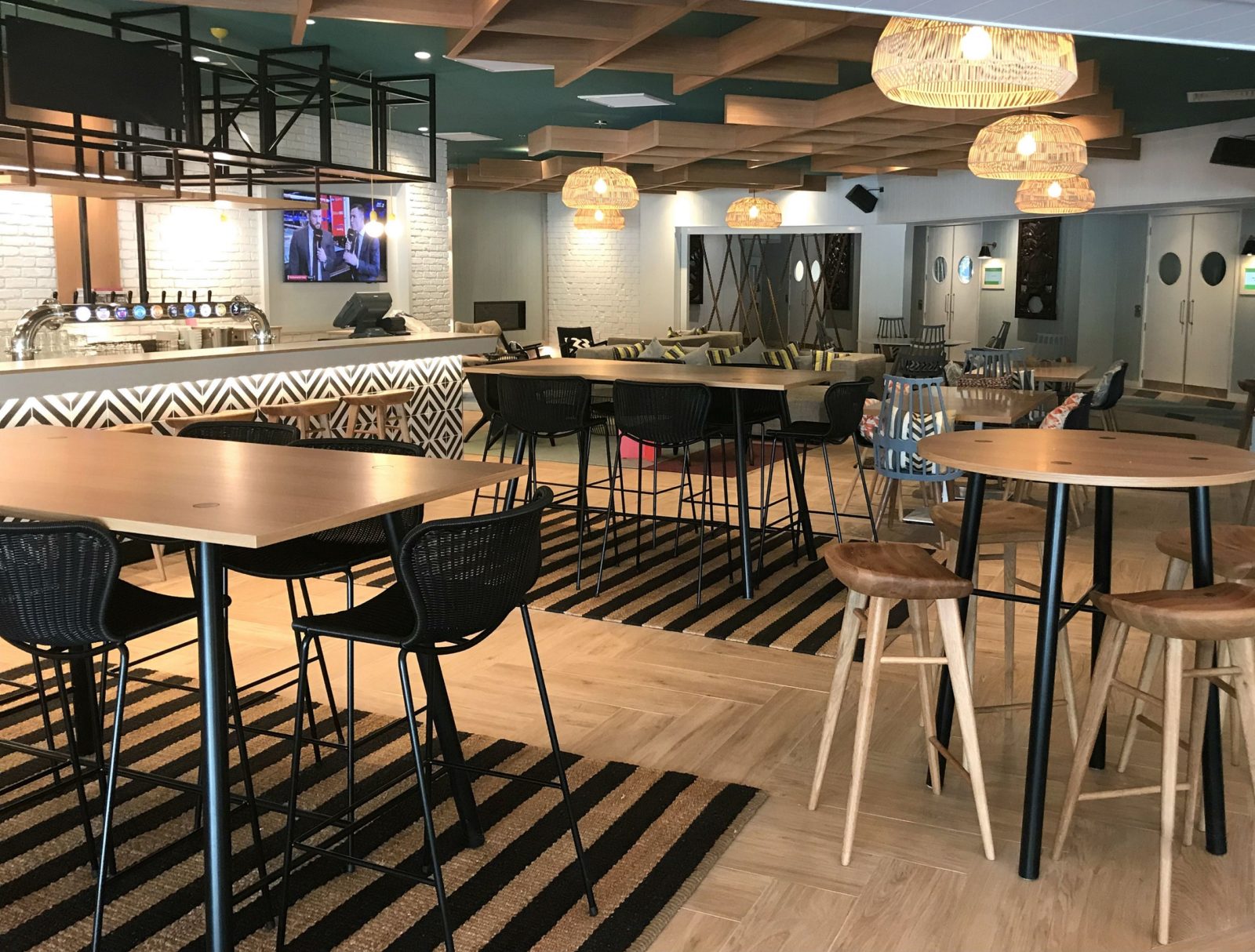 Media Release from Holiday Inn Auckland Airport Holiday Inn Auckland Airport hotel is now the perfect place to 'holiday' before or after connecting to domestic and international destinations, thanks to a multi-million-dollar refurbishment. Drawing inspiration from New Zealand and the Pacific, Holiday Inn Auckland Airport has a contemporary new look following a full renovation of…
The property's 'open marae-inspired design' offers the perfect meeting ground for travellers and Aucklanders alike, giving it a 'welcoming heart' with bursts of colour, life and energy.
The stylish new lounge bar sits at the heart of the hotel, where the removal of its original floor and ceiling features has revolutionised the space and opened it up to the sub-tropical gardens and the new swimming pool deck.
The hotel's restaurant is now a destination in its own right, taking diners on a culinary journey of native New Zealand in a Pacific holiday setting – think hanging plants, bursts of colour and authentic finishing touches.
Ten flexible meeting and function areas have received a fresh new look. The refurbishment reinforced the popularity of these rooms which have a relaxed resort, rather than city 'feel'. The rooms are known to be particularly spacious, with an airy atmosphere and plenty of natural light.
Delighted with the transformation and the investment in Auckland and New Zealand tourism, Holiday Inn Auckland Airport General Manager Scott Schaefer described the new look as a "runway success".
"From check-in to departure, there's plenty to do to keep the family or colleagues entertained in comfort while you wait for your next flight or seminar," he said.
"We have invested in games and other family-friendly amenities, reinforcing Holiday Inn's family proposition and what the Holiday Inn brand is known for worldwide.
"A new cultural personality shines from within and it's pleasing to say we're now fully open for dining, weddings, ceremonies and family events. It is such a privilege to see the owner's vision for the hotel come to life."
New furniture, flooring, light fixtures greenery and artwork throughout has added a modern twist, complemented by injections of Maori wood carvings, gifted by the local Iwi.
The pool is an oasis of calm amidst sub-tropical gardens, although it's just minutes away from Auckland Airport terminals and all major motorways.
A group of committed stakeholders in the project included owners Cockpit International, InterContinental Hotels Group (IHG), Designworks, JSC Ltd and construction company Format.
The creative Designworks team designed the hotel so all public areas were on one level, with a strong central core.
"Guests gravitate towards the central courtyard and pool area now that a variety of spaces have been opened up and flow into what is the 'welcoming heart' of the site," said Designworks' Group Head of Spatial Design Clark Pritchard.
"The overall style is relaxed and inviting, using a fresh and natural palette of materials interjected with pattern and colour to reflect the Pacific holiday concept while also celebrating New Zealand and Pacific modern art, flora and fauna."
Jacques De Lange, Managing Director of construction company Format, said they were "proud" to deliver the transformational project.
"Holiday Inn confirmed the strength in their brand by investing hugely in an improved facility," he said.
"Hotel General Manager Scott Schaefer, the hotel management and design team were outstanding in the delivery process of this lovely project."