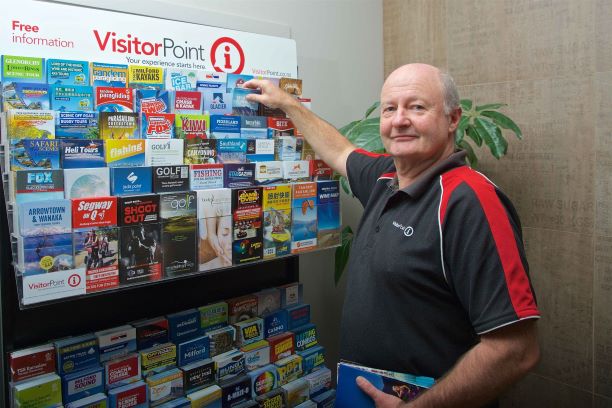 VisitorPoint commits to the Living Wage
New Zealand brochure distribution company VisitorPoint commits to the Living Wage.
As of July 1 all VisitorPoint staff are now entitled to an hourly rate minimum of $21.15, considerably more than the minimum wage of $17.70.
General manager Jenni Powell says the welcome change is part of the company's pledge to Tourism Industry Aotearoa's (TIA) sustainability commitment goals which includes employment.
"We have an extremely loyal and committed workforce which we appreciate immensely," she says.
"As a company we genuinely believe our staff deserve this commitment from us as they are our most important asset, and we're excited to be able to support them in this way.
All future employees will also be entitled to the new wage.
VisitorPoint has decided to forge ahead in driving social change for its 28-strong staff.
"As tourism businesses continue to grow throughout the country, we do too. From a financial and moral standpoint this is the right choice for us to make."
VisitorPoint is New Zealand's only national distributor of tourism information, having distributed brochures throughout New Zealand for more than 30 years.
It operates three warehouses in Christchurch, Auckland and Queenstown equipped with full teams of warehouse staff working in tandem with 19 merchandisers, as well as sales and marketing and senior management teams.
VisitorPoint's move to a Living Wage for staff aligns with its commitment to TIA's sustainable tourism promise.
One of TIA's goals is for businesses to pay a fair wage to all staff, which aligns with VisitorPoint's existing efforts in offsetting carbon emissions from all flights, the introduction of live online reporting for its clients and supporting print companies which share its sustainable print visions.
"We're trying hard to make changes which improve our business while taking sustainability into consideration; it's all part of a journey for us," says Jenni.
VisitorPoint currently distributes over 3,500 brochure titles from New Zealand tourism operators the length and breadth of the country. It has over 2000 physical display outlets nationally and operates 38 distribution circuits.