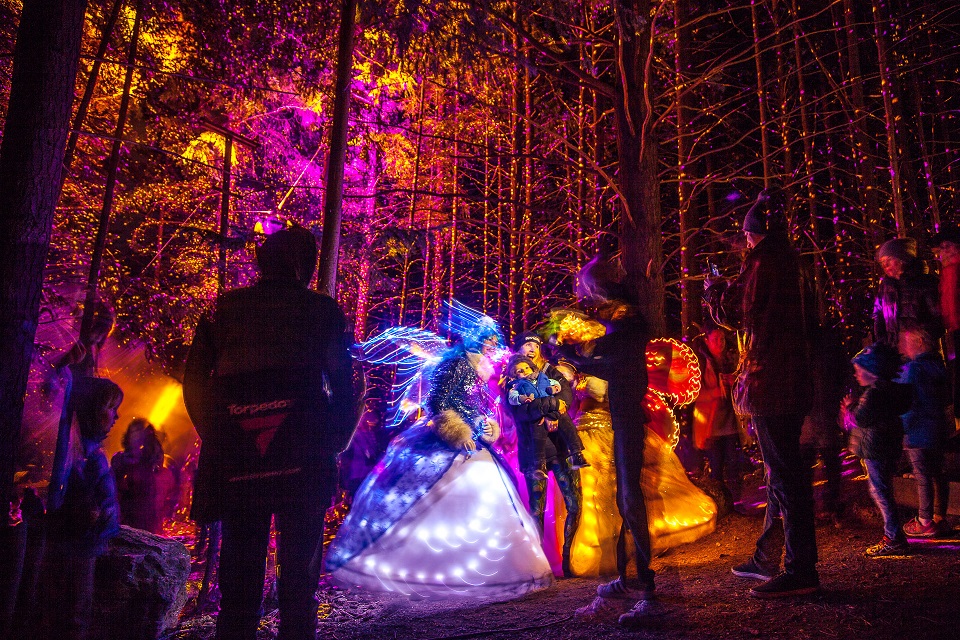 Media release from LUMA 2018
With less than ten weeks until Queenstown's award-winning light festival illuminates the night sky, the countdown is officially on.
The LUMA Southern Light Project returns to Queenstown on Queen's Birthday Weekend (June 1 – 4 2018) featuring a world light festival 'first' four evenings of illuminated art, light sculptures and entertainment.
Over 35,000 people braved the cold last year to go on a sensory journey through the iconic Queenstown Gardens and buzzing lakefront.
The free public event focuses on the transformation of space, public interaction, art, culture and education, made possible by curated collections of stunning light sculptures and thought-provoking installations.
Visitors can expect to be dazzled by an array of interactive and unique light displays, each one designed to encourage them to engage with the art and the surrounding Queenstown landscape.
Set within the picturesque Queenstown Gardens and waterfront, visitors can explore the illuminated winter wonderland with hot food in hand warming their fingers, as the art captivates their minds.
The 'world festival first' will see local and international artists collaborating on an instillation using over 90,000 individual light sources to turn trees in the Queenstown Gardens into an enchanted forest.
Auckland artist Angus Muir is returning to LUMA as the principle light installation artist and is excited about the collaboration.
"We're going to create a pretty amazing, almost 3D volume, of light within the forest. We'll be able to control the direction it moves, and create shapes within it, producing an amazing geometric work within an organic environment."
Muir's work will feature alongside creative art luminaries Jon Baxter, Puck Murphy and Nocturnal – Projection Mapping specialists, amongst many other local and national artists.
Trust chairman Duncan Forsyth says enhancing and promoting the creative and cultural heart of Queenstown is at the core of everything LUMA represents.
"LUMA 2018 promises to be the most innovative, immersive and interactive experience yet," he says.
"It's set to be a thought-provoking experience for all ages and we're delighted to bring the community together once again for our third instalment of the festival.
"There really is something invigorating about connecting strangers on a dark and wintery evening through forms of light and music.
The festival is run by a group of dedicated young Queenstown professionals who donate thousands of hours of their time to bringing the 'life' of the community back into the town centre.
Their goal? To shine bright, opening an enlightening conversation and improving the creative landscape in Queenstown.
Duncan says the event is only possible thanks to the loyal support of business partners and volunteers.
"We've been so grateful for the event partners that contribute, through cash or cash in kind, to help cover our huge overheads in transporting artwork, creating installations, and projection set-ups," says Duncan.
"They allow us to turn on the lights! Thanks for helping us, help you, to brighten up the future of our resort town."
LUMA Southern Light Project, and the LUMA Light Festival Trust are very proudly supported by local government event funding and partners from all over Queenstown and Otago.
LUMA Fast Facts:
LUMA Southern Light Project
Free event from 5pm to 10pm daily
Queenstown Gardens and waterfront
Queen's Birthday weekend – 1 to 4 June 2018
People are encouraged to take public transport and lift share where possible
Full event information at www.luma.nz
Photo caption:
A family night out. Enjoying every minute of LUMA 2017. Photo credit: Che McPherson