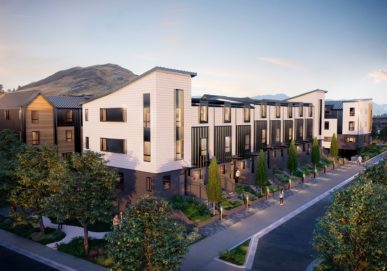 The property market in Queenstown is showing no signs of a slowdown, with the second stage of a $200m residential development being launched this week.
The Remarkables Residences townhouse development in the popular Frankton area of Queenstown is launching another 46 homes onto the market, following the successful sell down of all but one of 56 Stage One homes.
Stage One comprised three to five-bedroom multi-storey townhouses, offering buyers the chance to get their foot in the door of the Queenstown market for a competitive price.
Construction is well underway on the first homes, with completion expected in summer 2019. Roughly half of the purchasers have been Queenstown locals who have bought as an investment property or to live in, while the remainder are a mix of Auckland based investors and holiday home owners.
Local realtors Sheryl Williams and Mark Martin from Bayleys Queenstown said buyers saw superb value for money in the homes and loved the configurations of the properties that had flexible living and renting opportunities.
Another 46 terraced homes are available in Stage Two, with prices ranging from just over $1.1million.
The new release properties have slightly different layouts to Stage One, after designers took buyer feedback on board and made the majority of the homes four-bedroom properties with four ensuites.
The development is being driven by GYP Properties Pte Ltd, a subsidiary of Singapore public-listed Global Yellow Pages Limited, and marketed by the Bayleys Realty Group.
Bayleys Projects' General Manager Suzie Wigglesworth said the company was "very pleased" with the successful sell down of Stage One and that construction was underway.
"Remarkables Residences appeals greatly to owner occupiers as well as investors, with functional layouts and a location that provides convenience and accessibility," she said.
"The annual capital growth in Queenstown continues to rise and the demand for residential properties is still at an all-time high.
"We believe Remarkables Residences offers what buyers are looking for, and its central location with the airport, major ski-fields, retail and dining all a walk or a short drive away makes it highly desirable.
"We've already received a high volume of interest in Stage Two and we expect these homes to sell out fairly quickly."
The development aims to have a vibrant community of owners from all walks of life, from owner-occupiers through to seasonal-based workers.
The Remarkables Residences display suite at Five Mile Centre is open 12pm – 2pm weekdays and 12pm – 3pm Saturday and Sunday. To register interest or request further information go to www.remarkablesresidences.co.nz
About Remarkables Residences
Master-planned and designed by Auckland-based Ignite Architects, these are well-built, stylish and low-maintenance homes that are a very modern interpretation of popular developments of this kind.
Different building forms within each street offer individuality amidst a community, while each residence is thoughtfully designed to optimise sun and natural light. Quality fixtures and fittings are used alongside energy-efficient design elements for year-round comfort.
Green spaces incorporated in the development include a main public square and smaller Pocket Parks throughout the area. There are good links to surrounding biking and walking tracks, as well as easy access to public transport.
Remarkables Residences is in one of the most accessible parts of Queenstown, close to the airport and a very short walk to retail and hospitality outlets. It is just 15 minutes from central Queenstown and Arrowtown, and 30 minutes to ski fields.