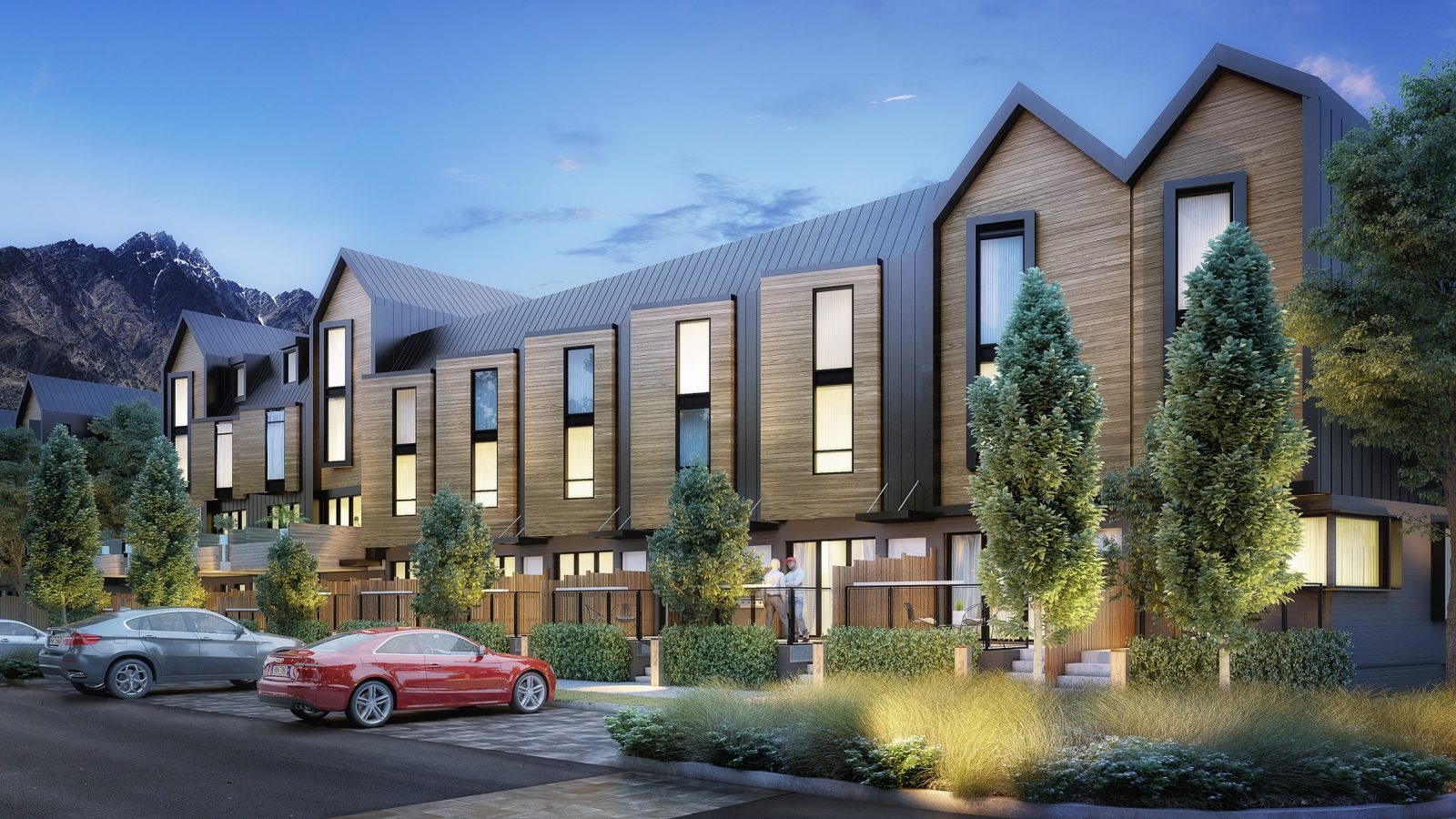 Media Release from Bayleys and GYP Properties Ltd
A $190m 225-home lifestyle development has been announced to local business leaders in Queenstown by Singaporean-based developers GYP Properties Pte Ltd.
Remarkables Residences on the Frankton Flats in Queenstown, will consist of a range of three and four-bedroom multi-storey townhouses, and master-planned to be surrounded by a vast array of lifestyle amenities, including retail and dining.
GYP Properties Chairman Mah Bow Tan, company Chief Executive Stanley Tan and other directors were in Queenstown for yesterday's business launch, saying they chose Queenstown for the development because of its continued growth and strong demand for this type of innovative housing.
Stage One of the project – consisting of the first 56 houses — will shortly be on the market and registrations of interest through Bayleys Real Estate have been enthusiastic. Construction is scheduled to start this year and the first stage will take about 18 months to complete. Further stages will be released during the year.
Pricing will be released shortly with a range of housing, sizes and layouts available. All properties feature rear garaging and some have additional studio or office spaces, making them flexible enough to suit a range of potential buyers.
Mr Mah described Queenstown as one of the premier tourism destinations in New Zealand, if not globally.
"We're very excited to bring Remarkables Residences to Queenstown because we know the demand for good accommodation is there, and we're creating a development with an Alpine feel to it in a very attractive location at the foothills of the mountains.
"It's a great value-for-money project that we believe will add to the Queenstown environment in a very positive way, helping to grow the town and meet demand as well as being a commercial success. We hope you'll be as proud of it as we are."
Queenstown Mayor Jim Boult, speaking at the announcement, described Remarkables Residences as "a very welcome addition to our district".
"This development marks a confidence 'tick' in the future of Queenstown and our economic development as a high-value tourism destination," he said.
"We're in a period of sustained development and extraordinary growth rates, with population growth increasing by 7.1% in the last year compared to national growth of just 2.1%, and visitor numbers of 66,000 on peak days.
"So your decision to create 225 townhouses that will be attractive to families as well as people looking for investments is something our council welcomes."
The properties are being marketed by Bayleys and there is already strong interest from existing Bayleys clients.
Bayley's Corporation Chairman John Bayley, also in Queenstown for the announcement, said they were "perfect" for a wide range of buyers.
"They'll suit owner-occupiers, families, or businesses wanting to house key workers," he said. "Their appeal will also reach holidaymakers who might know and love Queenstown, Kiwi investors and international buyers who want to invest in this dynamic, fast-growing location."
Mr Bayley said Remarkables Residences brought "much-needed" supply to the Queenstown market, transforming a bare piece of land into a safe, social and diverse community.
Remarkables Residences is being marketed as well-built, stylish and low maintenance homes incorporating latest design techniques. Master-planned by DASL Consultants and designed by Auckland-based Ignite Architects, they are described as a very modern interpretation of popular developments of this kind.
Much work has gone into creating different building forms in each street using proven 'neighbourhood architecture', maximizing privacy and lifestyle living, as well as sunshine hours.
Green spaces incorporated in the development include a main public square and smaller open spaces (called Pocket Parks) dotted throughout the area. There are good links to surrounding biking and walking tracks and easy access to public transport, such as the planned park and ride facility.
Mr Bayley said Remarkables Residences is in the most accessible part of Queenstown, close to the airport and a very short walk to retail and hospitality outlets. It is just 10 minutes from central Queenstown, 15 minutes to Arrowtown and 30 minutes to the ski fields.
GYP Properties CEO Stanley Tan is no stranger to Queenstown — he co-developed the Heritage Hotel 20 years ago and is delighted to return to the district.
To register interest or request further information go to www.remarkablesresidences.co.nz
Photo credit:
1/ The Remarkables Residences development has been introduced to local business leaders in Queenstown