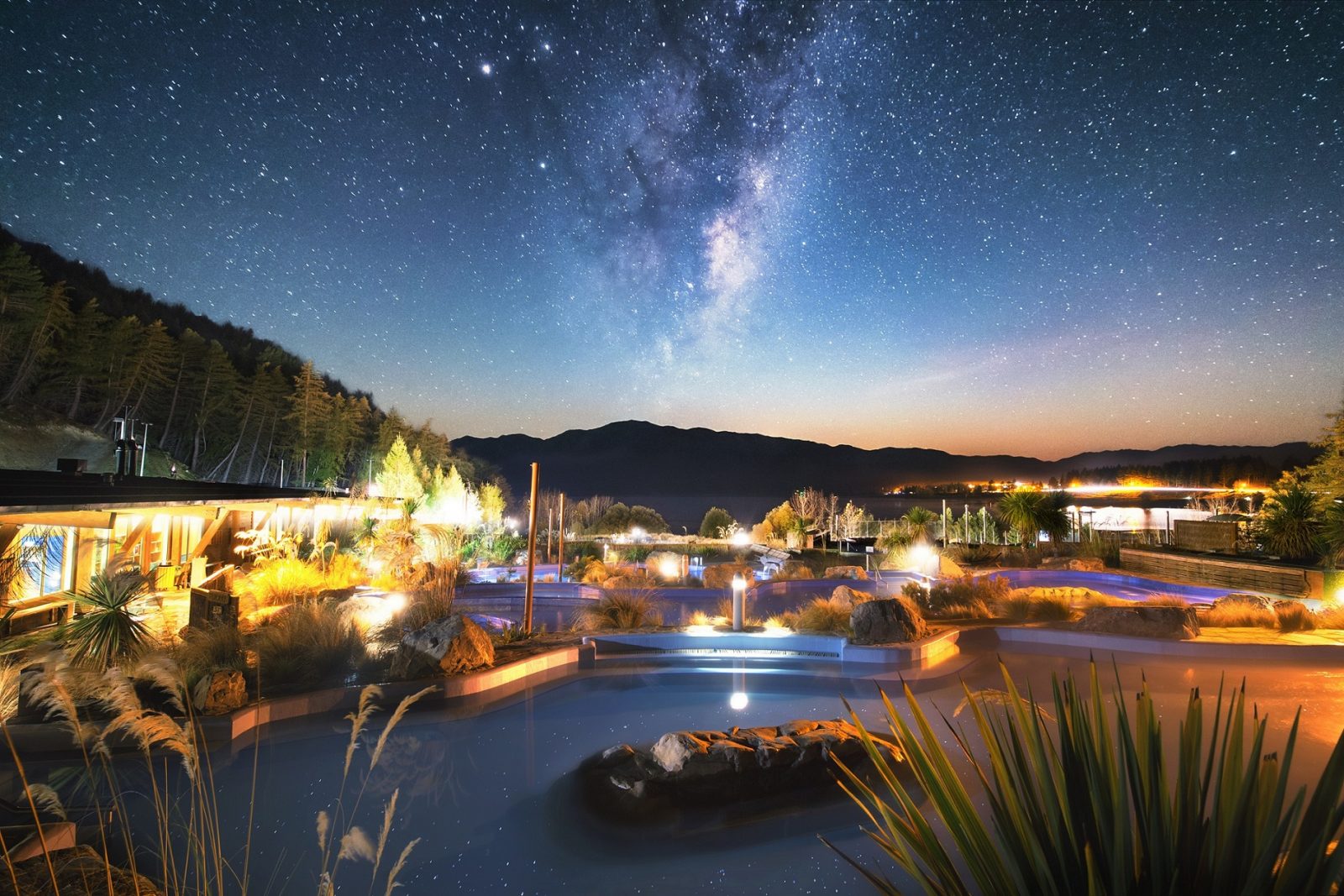 Video and Media Release from Tekapo Springs
Star gazing in one of the world's top 'clear sky' locations is being launched by Tekapo Springs in New Zealand's Mackenzie country.
The multi-award-winning South Island tourism attraction – renowned for its innovation and ongoing business investment – will take viewing the Southern night sky to whole new levels with the introduction of Tekapo Star Gazing.
Star gazing tours start next month (Friday March 3), taking advantage of the fact that the tiny township of Tekapo sits within the world's largest international dark sky reserve (4144sq km), only the fourth such reserve in the world.
But this is star gazing with a difference – incorporating a 40-minute guided night sky tour with trained star guides followed by a 40-minute soak in the hot pools. Guides will continue to give information, answer questions and 'story tell' on request, and relaxing astro music will play to soothe the soul.
The outdoor pools at the complex will be lit with low red lighting to add to the mood, and guests on the tours will be supplied with floatation devices to help them relax in the water. The complex's Tahr Bar and Café will be open for drinks and snacks throughout the tour.
Tekapo Springs owner Karl Burtscher said visitors didn't have to know about astronomy to enjoy their experience.
"Our trained star guides will deliver a tour that includes information on some of the closest and brightest features in the night sky such as stars, planets, constellations, and galaxies," he said.
"Guests will hear about the mythology and cultural aspects of the night sky including navigation for Maori and European cultures. Our tours have an emphasis on story telling mixed with some facts and entertainment.
"We're thrilled to be opening after sourcing and putting our new telescopes in place as well as employing guides and training staff about our unique night skies. We're always being asked about extending our nighttime operations so this is the perfect way to do it."
Before enjoying the pools, guests are invited to get 'closer to the stars and planets' by looking through two Celestron reflector 9.25 aperture telescopes and a Sky Watcher refractor Esprit 120 Telescope, which Mr Burtscher described as "modern go-to' telescopes", sitting on the patio outside the complex's Tahr Bar & Café.
Tours will go ahead no matter the weather and will operate year-round, with guests enjoying an exciting indoor guided tour with the use of a high definition projector if the sky is not visible at all. English and Mandarin-speaking tours are on offer and tour times will depend on the time of year and when it gets dark enough to see the night sky.
Mr Burtscher said Tekapo Springs had been considering adding the night sky products "for the past two or three years" and the timing was now right.
Just under a year ago, Tekapo Springs officially launched two new pools and an aqua play area new pools at the complex, bringing the total number of pools to five. The new pools proved hugely popular with visitors and locals and have resulted in a significant increase in visitor numbers.
"We just keep adding more and more reasons to visit Tekapo Springs including our winter ice skating rink, winter snow tubing and a huge inflatable summer waterslide," said Mr Burtscher.
"Adding Tekapo Star Gazing will continue to broaden what we offer, and extend the range of 'things to do' in Tekapo at night. Many Asian visitors in particular are entranced by our night skies because they can't see the stars at home due to excessive light pollution.
Star Gazing tours start at $89 per person and transport is available from the Tekapo Springs info centre. Bookings are highly recommended.
Tekapo Springs is a year-round attraction nestled on the shores of stunning Lake Tekapo, beloved by visitors from all around the globe. Last year it was a winner of the 2016 South Canterbury Chamber of Commerce Business Excellence Awards and a finalist in the Champion Canterbury Business Awards 2016.
Click here to visit Tekapo Springs's website.
Video credit (Mark Gee):
1/ A stunning time-lapse of the night sky at Tekapo