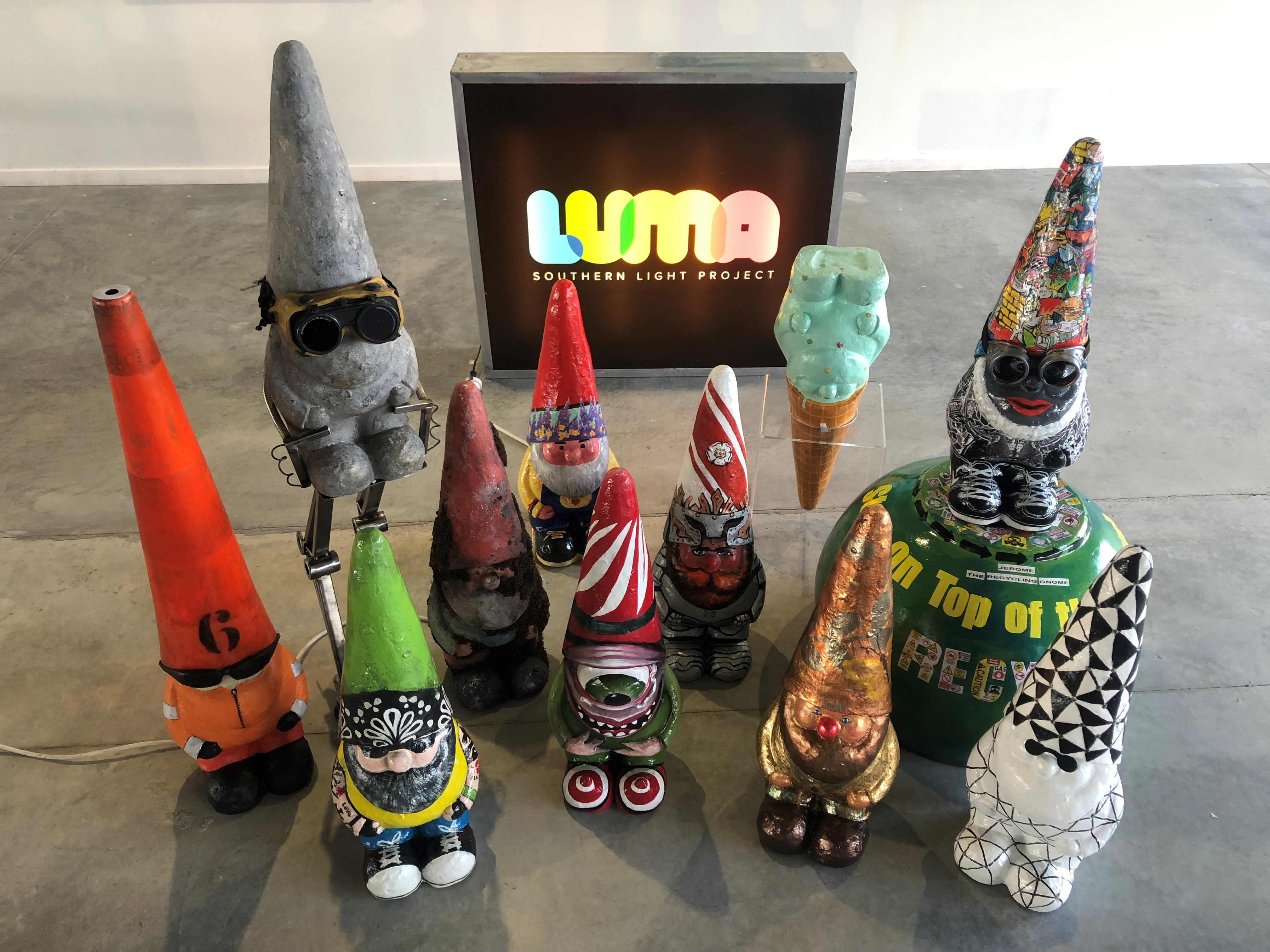 An award-winning light festival in Queenstown which attracts tens of thousands of visitors each year, has gone gnome-mad.
 Queenstown's LUMA Southern Light Project, from May 31 to June 3, will be 'gnome sweet gnome' to around 30 of the legendary little garden creatures.
But in true LUMA style there's a twist to this tale – they've been lovingly transformed into mini works of art by some of New Zealand's top artists.
 In the build up to and throughout LUMA, the fibreglass-concrete gnomes are being auctioned off through TradeMe as part of an 'Adopt-a-Gnome' programme, raising funds for an emerging young artist to work on an installation for next year's event.
Art lovers and businesses from around New Zealand are being encouraged to liberate a gnome through the auction. Before LUMA lights up Queenstown, some of the gnomes are on display at the new Macomos art gallery at Five Mile Centre.
During LUMA, part of the Queenstown Gardens will be transformed into 'gnome man's land' with an area dubbed 'Gnome Alley', showcasing their transformation.
The brief for the artists was broad – they could decorate, pull apart or incorporate the gnomes into a larger piece of art, and were generally encouraged to go gnome crazy! Resene Paints jumped on board as a sponsor with primer, paints and a clear glaze to ensure the gnomes survive chilly winter nights in the garden, and the project is also supported by the Queenstown Lakes District Creative Communities Scheme and local landscape company Patch Landscape.
Due to the notoriety of runaway (or liberated!) gnomes, they'll be kept under lock and key at the end of each evening during LUMA.
Each artist will have their name featured alongside their gnome – including luminaries such as Tony O'Keefe, Ben Ho and Mary Mai of Queenstown, Jenny Mehrtens of Arrowtown, Dick Frizzell of Auckland and many more.
Tony Cribb of Christchurch has designed an ice-cream gnome called 'Gnome in a Cone' with its hat painted as a cone and its legs and body looking suspiciously like a goody-goody-gum-drops ice cream.
Astro is a seasoned 'astrognome' who's completed over 200 missions as part of the gnome colonisation space programme. Flint is a homeless gnome looking for a loving family (anyone?) while Mossy Gnome from artist Dick Frizzell is apparently the oldest of all the garden gnomes.
'The Highwayman SH6' is a time stealer who works tirelessly to hold up all the good people of Queenstown (something of an 'in-joke' gnome), while a familiar-looking Minbot is the oldest known gnominion.
LUMA Light Festival Trust chairman Duncan Forsyth predicts the gnomes will be the "sure fire hit" of this year's event.
"We did tell the artists that 'anything goes' for their gnome makeover and they haven't disappointed us," he says.
"We've had some pretty serious expressions of interest already from art lovers who are 'in the know' and are proud to bid on a gnome so they can help us fully fund an emerging artist to develop, construct and exhibit a new piece of artwork for LUMA20.
"Who knows where some of them will end up!"
The Adopt A Gnome auction is underway on TradeMe and finishes on Tuesday June 4 at midday. All gnomes can be viewed on the LUMA website where there is a link to TradeMe.
Now in its fourth year, around 50,000 people are expected to brave chilly winter nights to go on a sensory journey through the gardens and around the Queenstown Bay waterfront.
LUMA Southern Light Project and the LUMA Light Festival Trust are very proudly supported by the Central Lakes Trust, the Queenstown Lakes District Council and Queenstown law firm Anderson Lloyd.