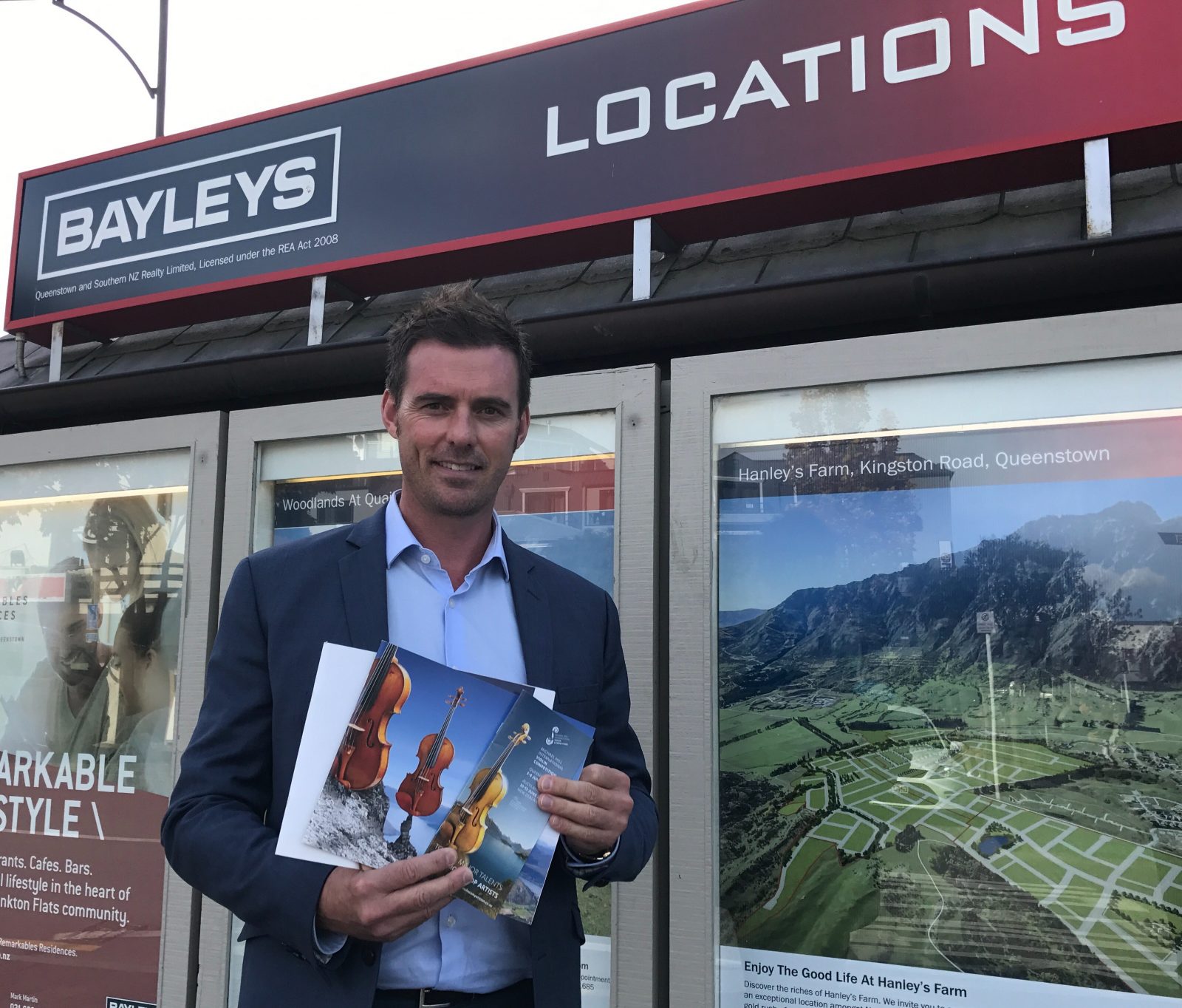 Media Release from the Michael Hill Violin Competition
Queenstown businesses and local arts lovers are throwing their support behind an iconic violin competition that recognises and fosters excellence among some of the world's finest young musicians.
Founded in 2000, the Michael Hill International Violin Competition is a biennial competition bringing together 16 talented young violinists from all around the world to showcase their artistic mastery in Queenstown and Auckland.
Over eight days (this year from June 2 to 10) they perform a series of spellbinding competition pieces in their quest to win a prize package valued at over $100,000 and the opportunity to launch themselves onto the world stage.
A new sponsor this year is the Bayleys Realty Group, New Zealand's largest full service real estate company, with offices in Queenstown, Auckland and every corner of the country.
Bayley Corporation managing director Mike Bayley said the company was proud to be associated with the Michael Hill International Violin Competition – bringing a world-class cultural event to New Zealand.
"As a passionate and committed New Zealander, Sir Michael's enthusiasm for supporting the performing arts is well known," Mr Bayley said. "Like Bayleys, the Michael Hill International Violin Competition is about encouraging excellence and putting New Zealand on the global stage."
Bayleys is specifically sponsoring the Quarter Final Round One in the Queenstown Memorial Centre on the afternoon and evening of Friday June 2. The session includes a special supporters' session for 'Pass' holders (light lunch included) at 1pm to meet artists and hear about new elements of the competition.
This is followed by an 'Insiders Guide' talk by judge selector Stephen Larsen and two sessions starting at 3pm and 7pm.  Bayleys is also sponsoring the continuation of the Round One Quarter Final on Saturday June 3 (with two sessions starting at 10am and 2pm).
Queenstown Airport is supporting the violin competition by helping showcase it to airport users, and will also host a group of local young Suzuki violin children who will play for the largest group of violin competitors when they arrive on Monday May 29.
Queenstown Airport CEO Colin Keel and his partner Ian Jackson have personally donated the $5,000 cash third prize. Other new local sponsors include Peter and Tiffany Campell of construction and project management company GBS Ltd (formerly Triple Star Project Management) who are sponsoring competitor Yoo Min Seo from South Korea.
Other invaluable Queenstown-based sponsors include Millbrook Resort, Eichardt's Private Hotel, The Spire Hotel, Hotel St Moritz, Queenstown Park Boutique Hotel, Limousine Line Queenstown, Over The Top helicopter company, The Queenstown Lakes District Council and the Queenstown Resort College.
QRC students are learning vital 'on the job' event management skills through mentorship of the Michael Hill Violin Competition.
The 2017 Michael Hill International Violin Competition showcases the extraordinary skills of 16 violinists aged 18 to 28 (whittled down from 140 applicants representing 32 countries).
Wellington's Ben Baker is the sole kiwi among the troupe, up against musicians from Japan, South Korea, Russia, the US, Switzerland, Romania and Kazakhstan.
With eight sessions from Friday June 2 to Monday June 5, audiences can experience the thrill of 'the hunt' as musicians compete for the $40,000 top prize, a recording contract and Australasian performance tour (with the chance to play on Sir Michael Hill's 1755 Guadagnini 'The Southern Star' violin).
Flexible attendance options cater to classical music connoisseurs as well as those keen to enjoy the weekend.
Local violinists can learn from and work with visiting musicians through workshops, master classes, rehearsals and talks with industry professionals.
Queenstown locals are being encouraged to check out a special 'locals deal' on Saturday afternoon with discounted ticket prices.
Locals are encouraged to come in for the Saturday afternoon session (2pm – 5pm) to hear four of 16 competitors each perform works by Bach, Paganini, a Salon Piece and an 'individual's choice' – an exciting new category where competitors 'show what they've got'!
Come earlier at 1.30pm to hear about violin technique and what judges look for.
Pre-booking is highly recommended – head to www.violincompetition.co.nz
Picture caption:
1/ Bayleys Locations Queenstown director Stacy Coburn is delighted the company is supporting the Michael Hill Violin Competition