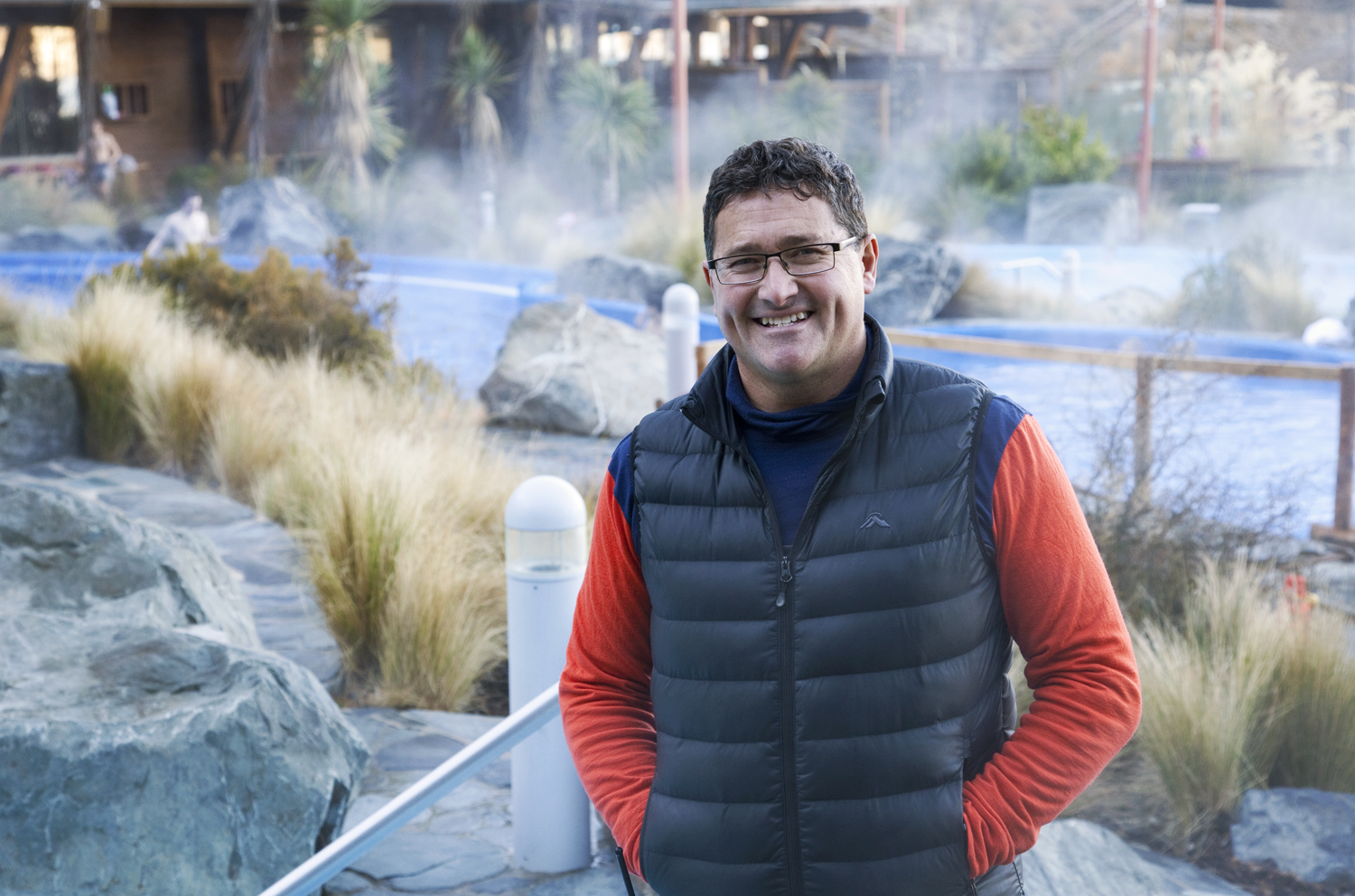 Media Release from Tekapo Springs
Tourism marketing strategist Anton Wilke is applying a wealth of experience in sales, marketing and general business management to his new role of General Manager at Tekapo Springs.
In a career spanning over 27 years, he's built an enviable reputation in the competitive New Zealand tourism industry having worked within public organisations, corporate and self-employed tourism businesses.
And as the new GM at Tekapo Springs he says he's "hugely excited" by the opportunity to work with the multi-award-wining South Island tourism attraction and its team of 45 staff.
Established more than a decade ago by owner Karl Burtscher, the pools, ice rink, snow tube park, café, day spa and now star gazing offering has grown into a key visitor attraction for Lake Tekapo and the McKenzie district.
Mr Wilke described his appointment at Tekapo Springs as "perfect timing", with the introduction of star gazing tours earlier this year married with the launch of new pools for the complex putting Tekapo Springs firmly on the global tourism map.
"Destination Lake Tekapo is in the throes of moving to the next level and it's a great time to be involved as we see new retail, attraction and accommodation developments planned in the village over the next few years," he said.
"As GM, I'm running a business with five internal business units, each with its own manager, and ensuring we all go in the same direction at the same time delivering on our brand promise of 'lifting your spirits'.
"We have some new and innovative ideas moving forward that will improve and expand on the current offer. As the tourism industry continues to grow, Tekapo Springs must be prepared to welcome more guests and provide a market relevant experience."
Mr Wilke said that as the business developed, experiencing a longer year-round season than in the past, it faced the challenge of staff retention, as Tekapo is very small with limited accommodation.
"It's something we're acutely aware of and are working on strategies to relieve that issue," he said.
"Developing business relationships on a district and regional basis is imperative for the ongoing success of our business."
Mr Wilke's background means he is uniquely placed to oversee the success of the five business units at Tekapo Springs.
His most recent roles include that of Managing Director of Tourism and Accommodation Marketing Services, MD of NZ Motel Marketing Ltd, and Sales and Marketing Manager at Canterbury's Porters Ski area.
He is currently Vice Chairman of RTO Experience Mid Canterbury and has previously been Sales and Marketing Manager for Canterbury Tourism. He was also previously Commercial Manager at Rainbow Springs and Rainbow Farm Show in Rotorua, among other key industry roles.
Tekapo Springs owner Karl Burtscher said Mr Wilke's extensive experience in the tourism industry could not be a better fit for the business.
"In recent years Tekapo Springs has made continued multi-million-dollar investments into two new pools and an aqua play area at the complex as well as launching star gazing tours in one of the world's top 'clear sky' locations," he said.
"We're renowned for our innovation and continued business developments in order to remain at the forefront of 'must-do' activities for international and domestic visitors.
"Anton will help manage a cohesive approach to our business which has grown exponentially over the past four or five years in particular, and we welcome his passion and drive for New Zealand's tourism industry."
Tekapo Springs is a year-round attraction nestled on the shores of stunning Lake Tekapo, beloved by visitors from all around the globe and winner of multiple tourism awards.
Click here to visit Tekapo Springs website.
Picture caption:
1/ Tekapo Springs new General Manager Anton Wilke