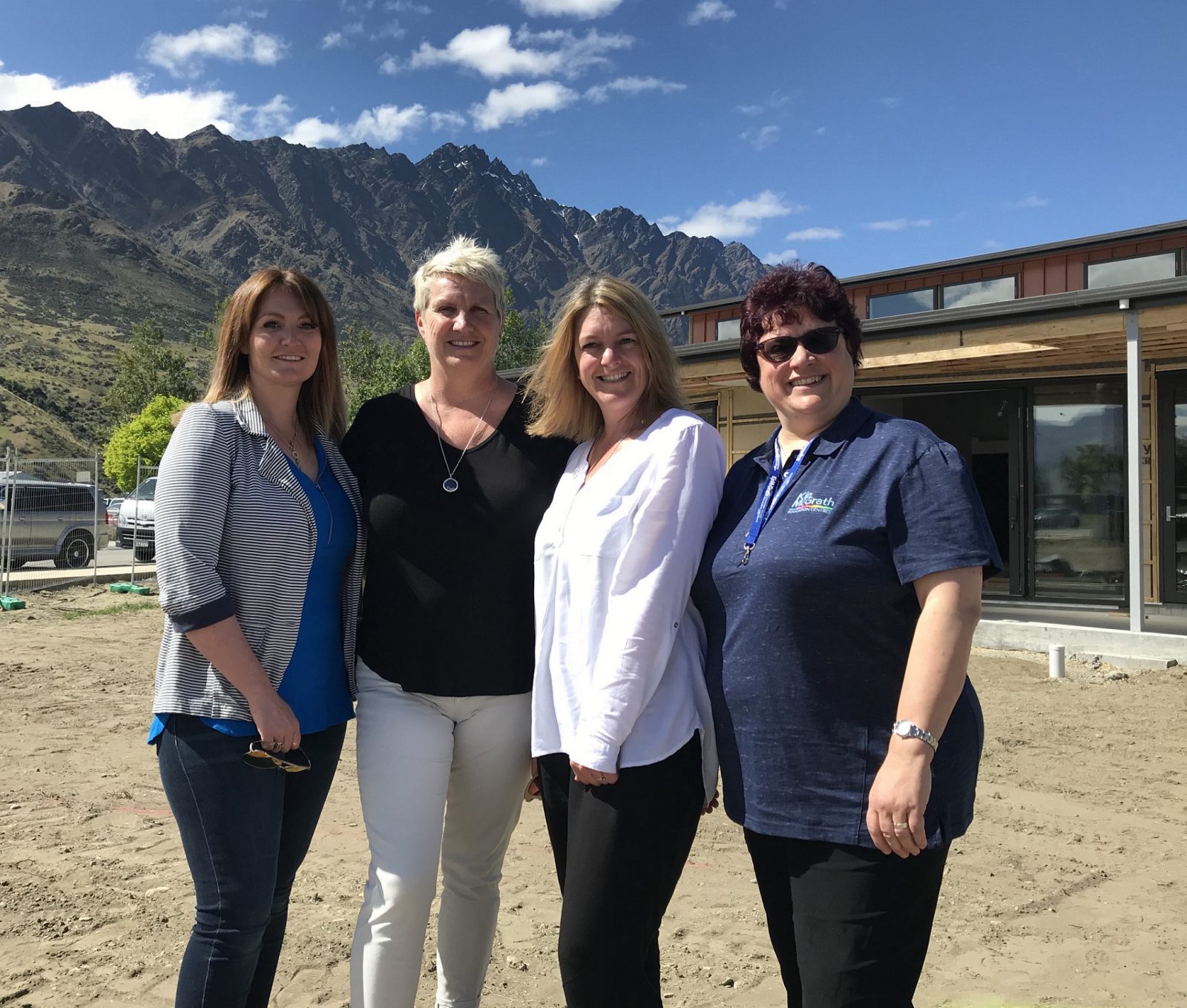 Media Release from Mountain Ash Drive Health and Education Hub
A health and education hub incorporating a new Early Learning Centre, extra-curricular facility Kip McGrath and offices for much-needed child wellbeing services will open next year at Queenstown's Remarkables Park.
The $5m two-storey commercial building is situated along the western boundary of the new Wakatipu High School site, accessed off Mountain Ash Drive.
Designed by Christchurch's DD Architects, the project has been led by quantity surveyor and engineer Karsten Pedersen of KPCO Ltd and is being built by Alpine Group Construction Ltd.
The building will house the Remarkable Start Early Learning Centre for 70-plus children on the ground floor, and the relocated Kip McGrath centre as well as child therapy and psychology services on the first floor.
The new Early Learning Centre is an integral part of the building and will be operated by owner proprietors Debs McKerchar and Candice Stewart.  Remarkable Start will help meet a growing need for quality preschool child education in the district.
"Debs and I are very passionate about our families and our local communities, nurturing those relationships to positively impact the lives of families and young children," said Candice.
"Remarkable Start will be an independent centre with a very tailor-made and personal approach to giving each child the best possible start to their learning and young lives.
"The central Frankton location is perfect because it's easily accessible to the wider Wakatipu community, and it's a brand-new, purpose-built building designed to receive natural warmth and light, even in the middle of winter.
"Our vision is to create a superior quality centre that's leading edge in New Zealand."
Remarkable Start will provide a fun, nurturing environment for youngsters from one to six years. Four core learning spaces – each named after well-known Queenstown landmarks – will be tailored to the needs and abilities of different age groups.
Remarkable Start will operate year-round, Monday to Friday excluding public holidays. Debs and Candice have been working in the education sector in and around Queenstown for over a decade, and in 2016 Candice was awarded a prestigious National Excellence in Teaching Award for making an impact in her local community.
The new building will also 'spread the net wider' as a dedicated Health and Education hub that factors in the wellbeing of all children.
Rooms on the upper level will be fully set up as professional spaces for childcare specialists such as paediatric occupational therapy, educational psychology, speech and language therapy, behavioural psychology and specialised dyslexia teachers.
"Many parents with children needing specialist care or tutoring have to regularly travel to Invercargill, Dunedin or even Christchurch to access services they need," said Wanaka-based paediatric occupational therapist Jenna Hale of Dynamic Developments. Ms Hale will manage the services.
"We have four rooms and a boardroom in the new building to make it easier than ever before for professionals to establish regular clinics here in Queenstown and help take the load off families who are struggling with children in need," she said.
"Local families have been crying out for a facility like this, with a multi-disciplinary team under one roof, because there just isn't anything like it at the moment.
"Children have been slipping through the gap because people just didn't know where they could be referred to. Now we can take a streamlined, collaborative approach to providing assessment and ongoing treatment on one site, working in with schools and other relevant agencies."
Kip McGrath will amalgamate its existing Queenstown and Arrowtown offices to create a new Wakatipu Centre at what it sees as the new 'geographical centre' of town.
"It will be about the same size in total as what we currently have, but configured much more efficiently," said Kip McGrath owner Emma Wilson.
"It's been designed to operate much more effectively alongside parents, schools and other agencies, and it makes sense for its physical location to be alongside the new Wakatipu High School, as our Queenstown premises is currently."
Approximately two-thirds of the current Kip McGrath roll are primary school pupils from around the district and a third come from the high school.
"We're there to help kids whether they're struggling at school, going through a tricky patch, have learning issues or they're working at higher levels and need to be challenged," said Emma.
"This will be a fantastic, flexible and accessible space, well set up with great internet, and designed at all levels to be suitable for different uses during the day and at weekends."
The new building is scheduled to operate from early next year with registrations of interest being taken now for Remarkable Start. Enrolments for up to 250 Kip McGrath students have also opened.
The new Wakatipu High School is scheduled to open in February 2018.
Picture caption:
1/ Exciting new businesses are opening in Queenstown with (L to R) Jenna Hale of Dynamic Developments, Debs McKerchar and Candice Stewart of Remarkable Start Early Learning Centre and Emma Wilson of Kip McGrath