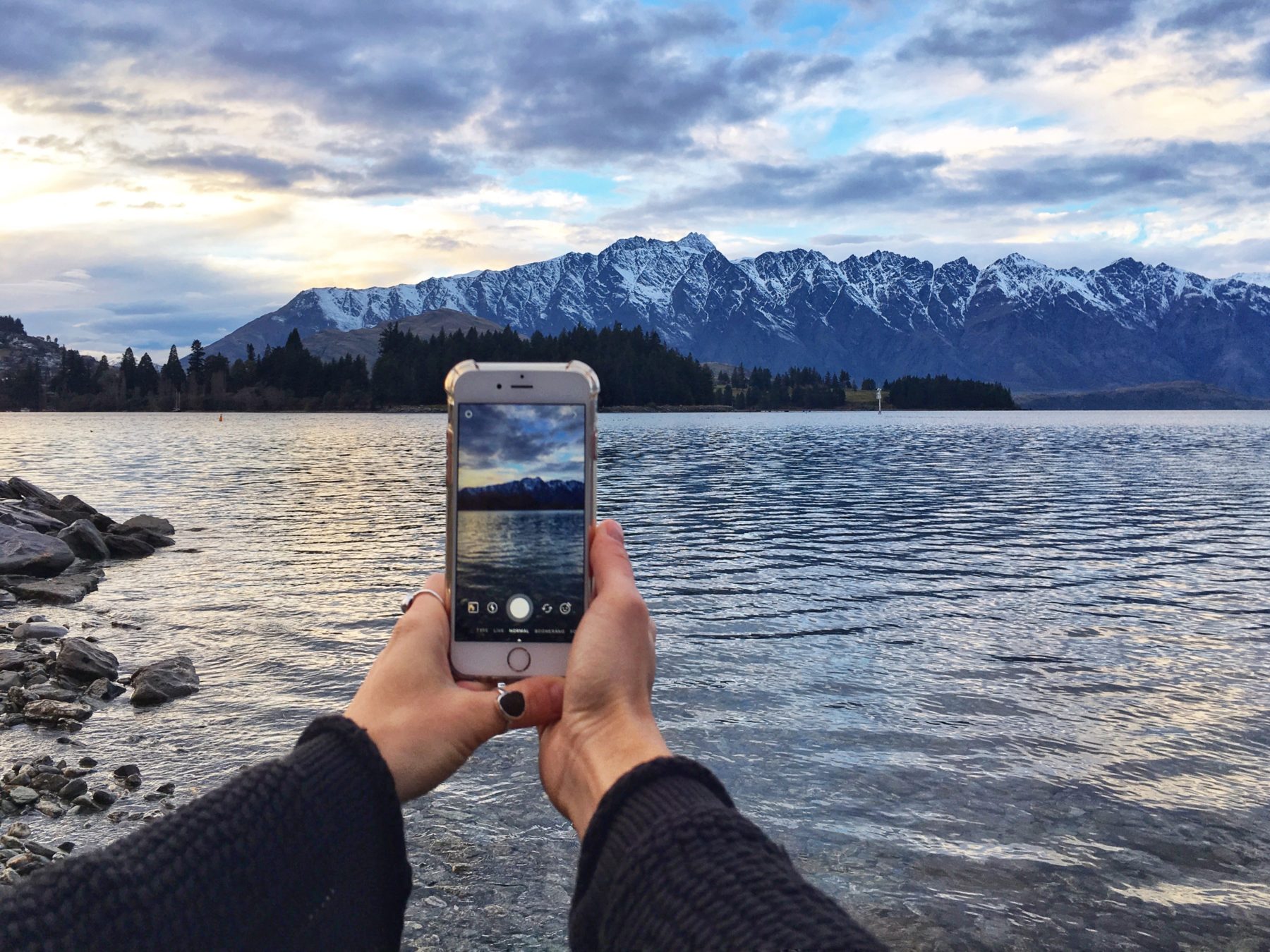 Let's talk Instagram Stories. Most of us watch them, but do you use them for your business?
With over one billion monthly active users*, Instagram's popularity and growth continues to skyrocket. As savvy business owners, we need to stay ahead of trends and learn to communicate with our audience on their level.
One of Instagram's most popular tools, their 'Stories' feature has over 300 million active users and is basically a free marketing tool. When used correctly, Instagram Stories can be more advantageous than traditional advertising, so here's how to make them 'work' for you.
Instagram Stories vs Instagram Feed
It's important to acknowledge that your audience wants to see two very different things from your Instagram. Firstly, they want to see an 'on-brand', gorgeous, well-thought-out feed.
Secondly, they want to see an 'insider's perspective', something the average person won't see. Because Instagram Stories only last for 24 hours, businesses can present an unembellished, real-life look at what goes on behind the scenes.
Instagram's algorithm
Since Instagram updated their algorithm in late 2017, it's much harder for your brand to be found if you only post to your feed. Stories on the other hand always appear at the top of a follower's feed and helps your brand remain visible. Popular Stories also appear at the top of the Explore page, and if you've tagged a location it appears in location-based Stories automatically compiled by Instagram, helping your profile gain an even wider reach.
What should I put in my Stories?
They're called Instagram Stories for a reason. If you're boring, people won't come back to your feed for more.
Here are some ideas to get you started:
Behind the scenes – Show your business has real people with personalities. Give your audience an insider view into your brand, who are you and what you represent.
Use stories to get real-time feedback – Question your followers about a new product or idea using Instagram's poll feature. This provides you with live feedback and makes your audience feel valued.
Collaborate with other brands – Find likeminded brands and work together on a project, event or giveaway.
Create live tutorials – Use your Stories to give advice, make 'how-to' slideshows or answer FAQ's.
Try an Instagram takeover – Hand over your Instagram account to someone else for a day or two. This could be your CEO or a special guest (think influencers, local photographers etc). This gives a different voice to your account and shows a new and exciting perspective.
Take your e-commerce to the next level – Bring your 'shop-able' looks to life using your Stories. With Instagram's rollout of new Shopping Tags, which enable businesses to link to their website using price and description tags, you should be looking at how to best optimise your e-commerce capabilities.
Story Highlights
Back in December 2017, Instagram released a new 'Highlights' feature that has changed the way people interact with the platform. It enables you to select a series of Stories and feature them below the bio section of your profile.
NOTE: THIS IS SIGNIFICANT FOR BUSINESSES!
Instagram Stories Highlights gives you the ability to have unlimited links for an unlimited time in your bio (a clear departure from the 24-hour Stories format we have previously seen). This means you can now direct your followers to any number of external pages like your website, an event, other channels etc, through a simple tap.
The placement of Story Highlights allows you to go beyond the 150 of character limit of your bio to show people what your account is all about and why it's worth a 'follow'.
Here's some ideas on how to use Highlights:
Colour coordinate or create branded Highlight cover images – enabling you to stylize your page even further
Announce new products or services and keep followers updated with 'what's new'
Highlight your 'best of…' moments
Complement your other channels by linking your Highlights to external blogs, website etc
Showcase giveaways and collaborations rather than flooding your feed with promotional posts
Display recent events, meetings or special occasions
Promote user-generated content and encourage your audience to tag and hashtag your brand to be featured
Brands leading the way:
Airbnb's Interactive Quizzes
Airbnb's Travel Tuesday series showcases user-generated content from Instagram to provide its followers with inspirational travel ideas. Rather than just posting the pictures, Airbnb transforms each photograph into an interactive quiz. By incorporating user-generated images and polls into their stories, Airbnb increases engagement and creates ways to measure their followers' interests at the same time.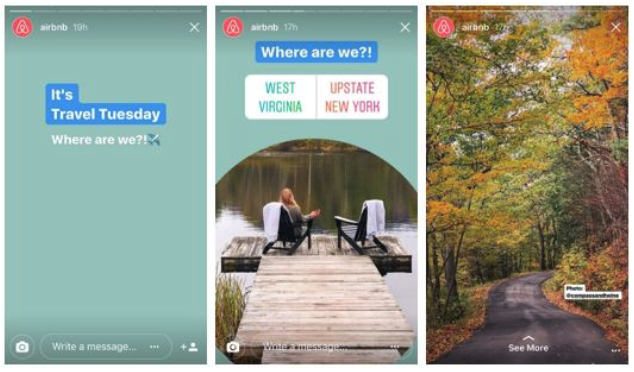 E! News' Snappy Stories
E! News keep their followers updated on the latest celebrity drama by sharing news stories directly on Instagram Stories. These 'short but sweet' news blasts meet the needs of their target audience, who may not want to read a full article, but always want to be on top of the latest celebrity news.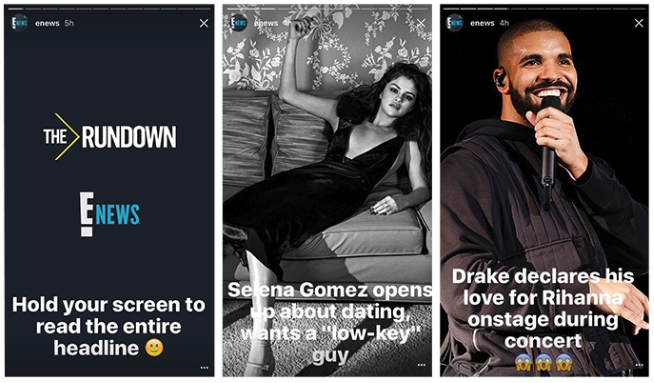 NASA's Behind the Scenes Pass
NASA uses their Instagram Stories to share 'behind the scenes' news and information. They provide background stories, additional information, research and visuals that complement their regular Instagram posts, giving their followers a 'backstage pass' to the inner workings of NASA.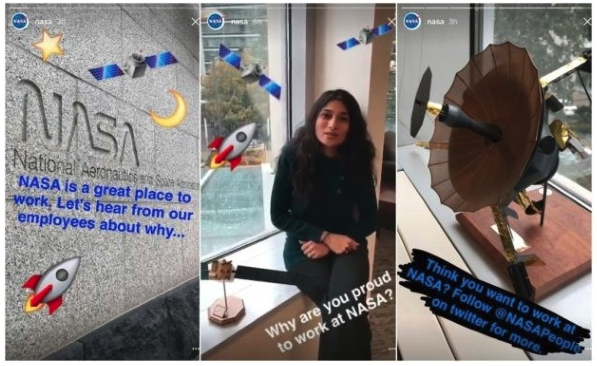 Instagram is constantly evolving and keeping your pulse on new trends and tools is vital to creating a successful social media strategy.
Understand the importance but don't know where to start? We've added an Instagram Stories Workshop to our portfolio, so if you think your business would benefit upskilling in Stories then get in touch today.
*Statistic from Social Media Today