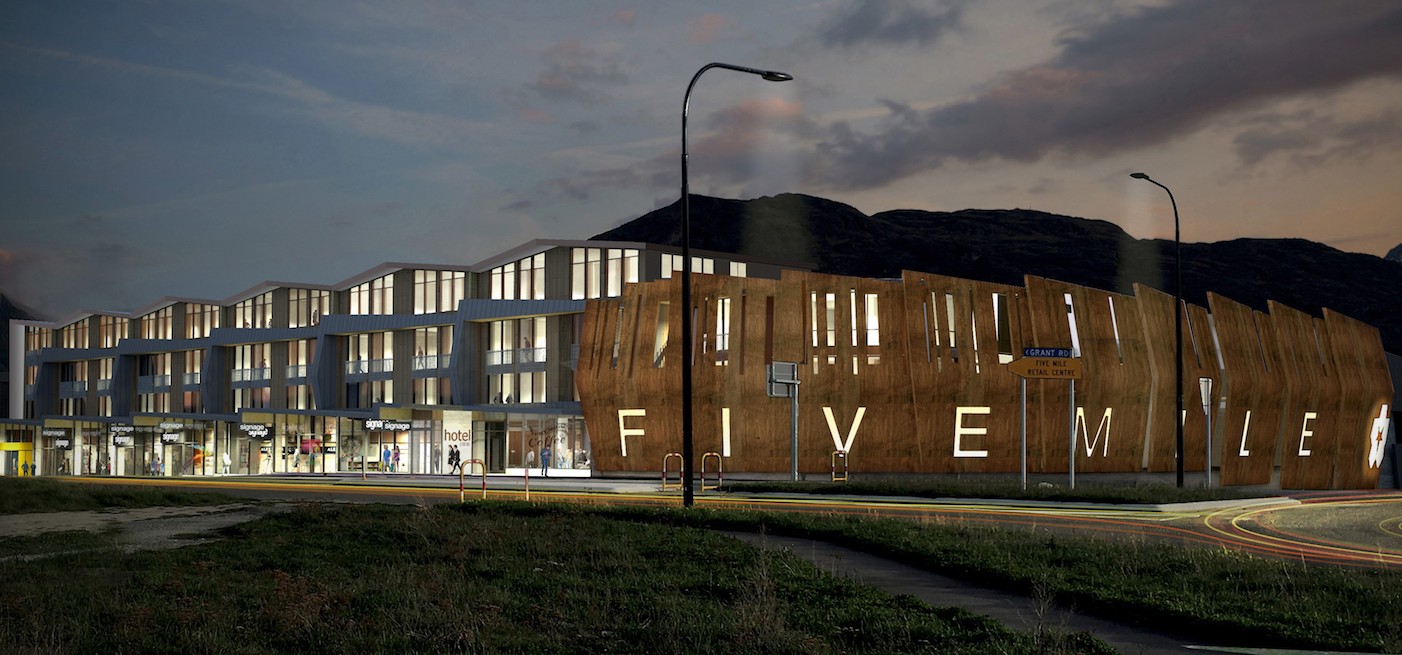 Sudima Hotels to Open New Property in Queenstown's Five Mile Precinct
One of New Zealand's most sought-after tourism and leisure hotspots is getting a brand-new hotel to meet increasing demand for high quality accommodation in Queenstown.
The 4.5-star hotel at Queenstown's popular Five Mile precinct, set to open in the 2021-22 summer season, will operate as Sudima Queenstown and add to Sudima Hotels' current portfolio of four hotels (Auckland Airport, Rotorua, Christchurch City and Christchurch Airport) and two more due to open in 2020-21, Auckland City and Kaikōura.
The property is owned by Clearmont Group, developer of the mixed-use Five Mile retail and business centre. Director Craig Greenwood says that after over four years in the planning they're "delighted" construction has started on the signature four-storey 'Armadillo' building which completes the entrance to the Five Mile centre.
"In choosing a hotel operator we felt we needed a brand which delivered a quality experience at an affordable price, and we believe Sudima Hotels fulfils these brand values," he says. "The hotel will also have a conference centre, meeting a need identified by our business customers, and there will be a further 2700m2 of retail on the ground floor."
The building was designed by Queenstown's JCY Architects director Richard Chambers and his team, inspired by the rugged geological strata of the area and developed in close collaboration with Clearmont Group and Sudima Hotels.
"The building will complete the retail loop of the centre with a lobby on the ground floor accessing the hotel above. The palette of materials developed from previous buildings on the site includes weathering steel, warm timber-like tones on the upper levels and board-marked concrete panels with timber soffits."
Construction by Naylor Love began earlier this month, with the company's regional manager Greg Boland saying they were proud to have worked with Five Mile from the start of the development.
"The design team has put a lot of time into making sure that the new hotel ties in with the look and feel of the rest of the development, and we're looking forward to delivering a stunning building that fulfils their vision," he says.
Sudima Queenstown at Five Mile is close to Queenstown Airport, major ski fields and main routes north and south. The hotel will feature 120 guest rooms (king, twin and family), a restaurant and bar with alfresco dining, four meeting and conference rooms and ski storage. The décor will have natural finishes throughout to complement the beauty of the surrounding landscape.
Sudima Hotels is an award-winning leader in the New Zealand accommodation and hospitality sector. Last year it won three New Zealand Tourism Awards, taking home the Supreme Tourism Award, along with the Environmental and Employer of Choice awards.
Sudima Queenstown is set to open as a single-use plastic free property, built to a standard that will enable certification to carboNZero status as soon as possible. This will further bolster Sudima Hotels' reputation as a leader in sustainability, diversity and accessibility.
Sudima Hotels CEO Sudesh Jhunjhnuwala says, "We're thrilled to be announcing a new property in Queenstown, and proud to be chosen by the Clearmont Group as their hotel partner as they further augment the already successful Five Mile precinct.
"We set out to provide exceptional customer service in a welcoming and unpretentious manner and strive to be industry leaders in social and environmental responsibility. We look forward to progressing our mission and pushing ourselves forward with the opening of two new hotels this year and Queenstown a couple of summers from now."
About Sudima Hotels
Sudima Hotels is a New Zealand hotel brand that is passionate about and committed to delivering environmentally friendly and accessible hotels in New Zealand. It is an industry leader in setting sustainability benchmarks, having achieved the first carboNZero certification for a New Zealand hotel, and initiating a movement within its group of hotels to become single-use plastic free by 2020. All its hotels are accessible and have been rated between Bronze and Platinum for accessibility by Be. Lab.
Underpinned by strong values that centre on caring, doing the right thing and working together, Sudima Hotels focuses on helping guests make the most of their day. Both corporate and leisure travellers will feel welcome and be greeted with a smile at Sudima Hotels.
Sudima Hotels current locations include Auckland Airport, Rotorua, Christchurch Airport and Christchurch City. It has hotels under development in Kaikōura, Auckland City and Queenstown.
Sudima Hotels is owned and managed by Auckland-based entrepreneur and property investor Sudesh Jhunjhnuwala.