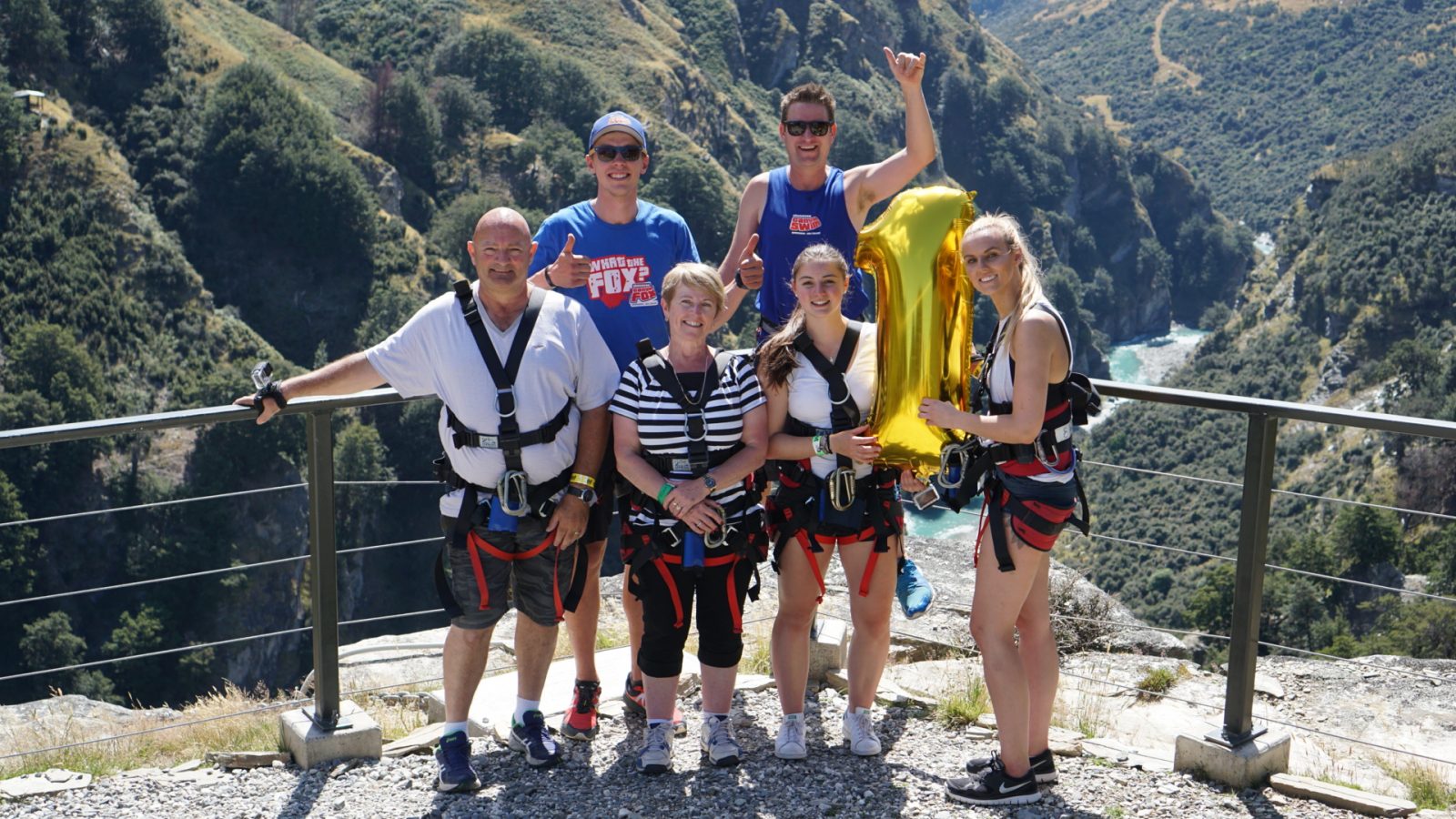 Media Release from Shotover Canyon Swing and Canyon Fox
The world's highest cliff jump operator, Shotover Canyon Swing and Canyon Fox, has raised over $12,700 during Shotover Canyon Fox's first birthday celebrations to help a community in need.
The tourism superstars jumped right in to help raise money for families in Kaikoura following the earthquake – helping fund the rebuild of Waiau School and Community Pool.
The pool, which was used by both the community and the school, was destroyed in last year's earthquakes. The news prompted community members to start a Givealittle page to help get the facility back up and running.
Celebrating it's 'Oneth' birthday from February 18 to 24, over 250 locals and visitors visited Queenstown's Shotover Canyon Fox to get their adrenalin fix for just $50.
All proceeds from the fundraiser went straight to the rebuild.
Shotover Canyon Fox Sales Manager James Isted-Salmon – known to all and sundry as just 'Salmon' — surprised Waiau School and Community Rebuild Committee members Emma Duncan and Caroline Eastmond with a cheque this weekend.
Waiau School and Community Rebuild Committee Chairperson Emma Duncan says she was astounded by the generous contribution.
"To be handed a cheque for over twelve thousand dollars is amazing and we're very appreciative to Shotover Canyon Fox," she says.
"It would take us months to fundraise this sort of money as we're such a small community, and it has put us one step closer to achieving our end goal."
Rebuild Committee Secretary Caroline Eastmond also expressed her gratitude.
"The donation will give the whole community a huge boost," says Caroline. "It's mind-blowing to know we've got so many good people around the country behind us, supporting our community in our efforts to rebuild the facility."
Salmon said the committee was "absolutely over the moon" with the substantial donation, especially as it had been a surprise before the cheque amount was revealed.
The Shotover Canyon Fox drops adrenalin junkies from the world's first 'rail launch' system 182m above the mighty Shotover River.
The Fox takes adventure-lovers out on the rail system before dropping about 5m into thin air and 'foxing along' to the other side.
Once there, they're attached to a more traditional zipline (Line 2) taking them back to base.
Shotover Canyon Swing General Manager Matt Hollyer says he "couldn't think of a better way to celebrate" Canyon Fox's first birthday.
"A year on, the team couldn't be prouder of our unique invention," he says.
"A big thank you to everyone who has visited the Canyon, and taken a leap of good faith for a good cause.
"Each year we're blown away by the generosity of others, and we're delighted to help the project to make the pool a central point for the Waiau community once again.
"We chose Waiau School for the birthday fundraiser as we wanted to support a service that benefited an entire community, post Kaikoura earthquakes.
"We're looking forward to pop in for a swim when it's up and running."
Shotover Canyon Swing and Canyon Fox runs annual fundraising initiatives to support local charities, picked each year by the company's staff.
The Waiau School and Community Pool's Givealittle page has raised over $92,600 since it was created in November 2016. To donate or for further information go to https://givealittle.co.nz/cause/waiauschoolpool
Click here to visit Shotover Canyon Swing's website.
Photo caption:
1/ Staff and thrillseekers celebrate Shotover Canyon Fox first birthday