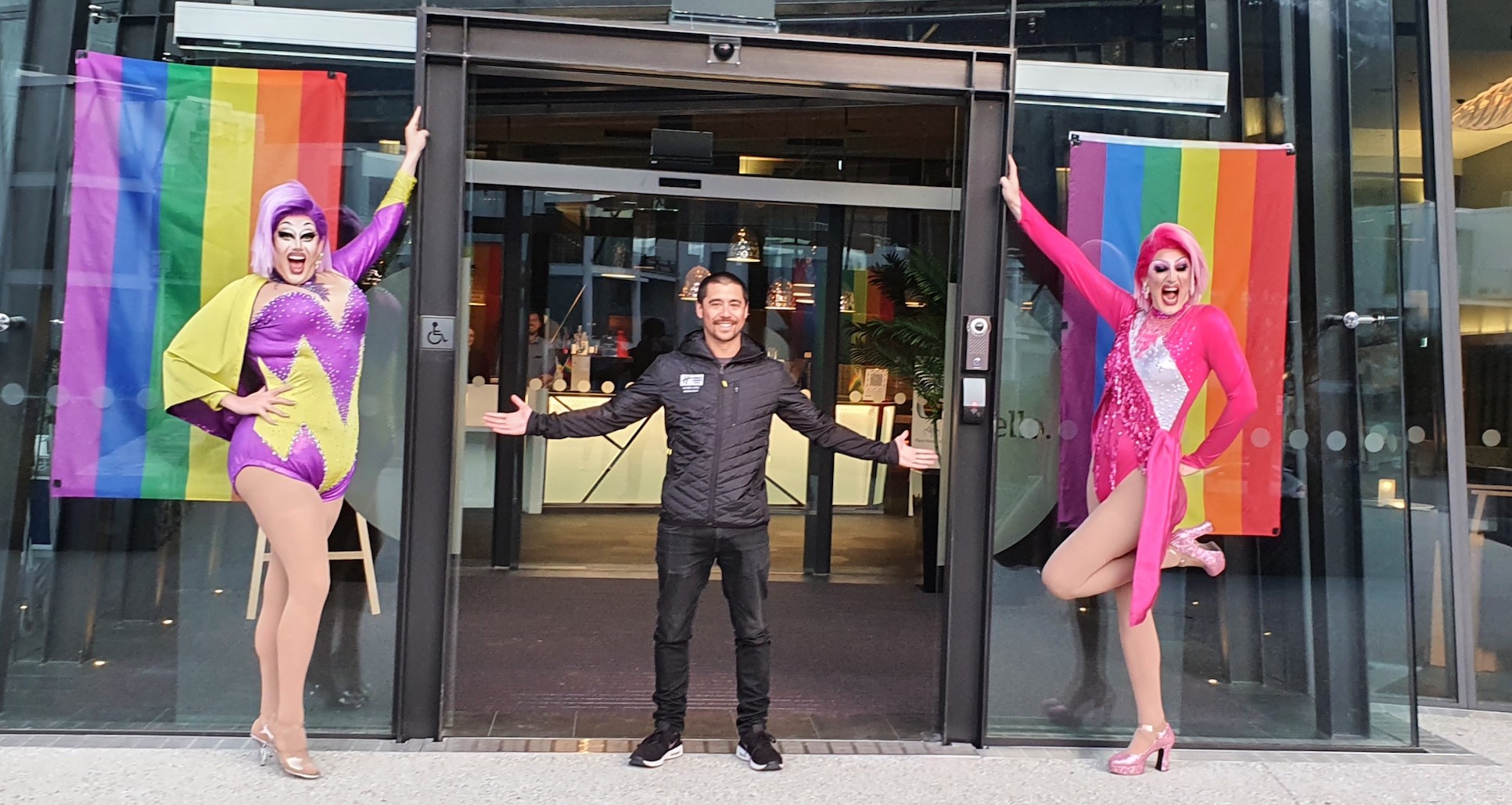 This week its proud sponsor of the Winter Pride On-Mountain Series, an explosion of colour across three mountains incorporating the famous Onesie Day, Ski Charity Race Day and the Pride Ski Flag Parade.
Holiday Inn Express signed up to support Winter Pride nearly a year ago, with the hotel only half-way to completion at the time. 
Fast-forward to this week and the Holiday Inn Express team has been on the snow, celebrating some of the best spring skiing in years and having fun with LGBTTIA+ visitors from all around New Zealand.
Hotel General Manager Jason Sabin says he and his team have been "beaming ear to ear" all week.
"It's been great to see the return of Aucklanders and the rest of New Zealand to their favourite fun destination," he says.
"Yes we're operating under Level 2 and yes it would have been great to welcome Australian visitors too, but Martin and his Winter Pride organisers and volunteers have done an amazing job.
"The icing on the cake for him and us was the amazing snowfalls and cold temperatures we've had in the last few days.
"The skiing and snowboarding has been outstanding, thanks to Coronet Peak, Cardrona and The Remarkables. A highlight for us was supporting the Ski Charity Race which raises funds for the Wakatipu Youth Trust, a not-for-profit working alongside young people in Queenstown.
"We've loved every minute and will definitely be back next year!"
Winter Pride festival director Martin King says that in these extraordinary times, support for the festival is "critical" to its survival.
"Holiday Inn Express has been super-engaged and supportive, and them staying with us and standing up for the event at this time has been vital," he says.
With snow coating the mountains and a brand-new hotel ready and waiting, the timing's perfect to check out opening special deals still available throughout September and the school holidays (September 26 to October 11).
Holiday Inn Express & Suites Queenstown is a 227-room hotel on the corner of Stanley and Sydney Streets, just a short stroll from the resort town's vibrant centre.
The hotel's room offering includes spacious suites – a Holiday Inn Express 'first' in New Zealand and Australia – in addition to superior rooms with breath taking views of Lake Wakatipu and The Remarkables mountain range.
It has a warm, stylish vibe, complete with an outdoor lounge with firepit. It's also equipped with the smart, simple rooms and in-room features that leisure and business travellers have come to know and love.
The hotel delivers on features the Holiday Inn Express brand has become renowned for including an Express Start breakfast, power showers, black-out blinds, high-quality bedding with a choice of pillows and uncapped Wi-Fi.
There's also a fitness room, sauna, two flexible meeting rooms, self-serve laundry, dry room, onsite parking and a free business centre.
Holiday Inn Express & Suites Queenstown is the first and only hotel under the Holiday Inn Express brand in New Zealand to date.