Masterwood Joinery

Masterwood Joinery designs and manufactures high specification kitchen and bathroom cabinets and commercial joinery. Based in Cromwell, the company strives to deliver the 'wow factor' to home and commercial interiors throughout Otago, the Southern Lakes District and Southland.
Objective

Southern PR was engaged when Masterwood was named a finalist in the KBB Design category (kitchen, bedroom, bathroom) of the prestigious Society of British and International Interior Design's International Design Awards. Finalists were chosen by a technical panel of judges (accounting for 70% of marks), while the remaining 30% was via public vote. Southern PR's objective was to gain Masterwood as many public votes as possible for its outstanding kitchen entry, while simultaneously raising the company's profile throughout New Zealand. The competition was fierce, with businesses from 48 countries up for awards across 14 categories.
Approach

Southern PR used a number of traditional and modern strategies and channels to gain votes while boosting Masterwood's profile. Broadly speaking, this involved social media and email campaigns — which included paid and unpaid content using creative and engaging videos, photos and copy/content — as well as more mainstream media releases and media relations communications and pitching.
Results

Masterwood Joinery was thrilled and delighted to win the award at a ceremony in London. Southern PR's efforts reached 35,000+ people on social media and stories were published in the Mountain Scene, Stuff.co.nz, Otago Daily Times, Scoop, Homed and it's local Cromwell Bulletin pre and post win. Following the award win, regional and international enquiries flooded in to the team at Masterwood Joinery for their services.
This was an exceptional success story for a small town company which, quite literally, 'took on the world, and won'. Winning an SBID award is considered the global pinnacle of interior design excellence. The two Masterwood representatives who attended the awards were said to be "crowd favourites" and undoubtedly the most excited winners.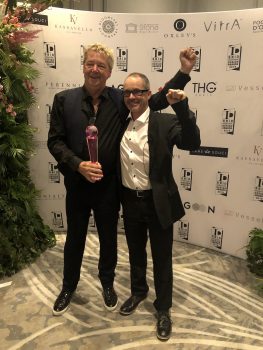 Masterwood Joinery's General Manager Jim Cleveland (L) and in-house Kitchen Designer Stefan Sonntag (R) at the awards ceremony in London. 

Gibbston Valley Lodge & Spa
Nestled in the heart of Central Otago's founding winery, Gibbston Valley Lodge & Spa set out to make its mark on the international luxury accommodation market. The Lodge adds another layer to the already hugely successful Gibbston Valley Winery brand, encompassing wine and culinary excellence with a 5-star experience. The Lodge includes a wine education theatre, private meeting rooms, and unique indoor and outdoor spaces for intimate boutique weddings. It's also home to a semi-private restaurant and spa alongside 24 villas.
Objective
Southern PR were engaged to help launch Gibbston Valley Lodge & Spa. The objective was to build brand awareness, demonstrate connections to the local community and position the Lodge as an exciting new addition to the luxury accommodation market.
Approach
The foundation of our approach was built on what the Lodge wanted to represent, its overarching objectives and ethos. We had a particular focus on sustainability, the 'faces' of the business and operation as well as wine and food connoisseurs.
Results
Through an integrated public relations and communications strategies Gibbston Valley Lodge & Spa's brand identity, as a new offering, was forged locally, nationally and internationally. Stories were successfully published by a large number of publications including; KiaOra Magazine, The Otago Daily Times, Qantas' in-flight magazine, Mindfood, Gourmet Traveller, World Magazine, QT Magazine and many more.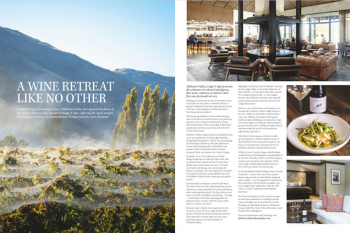 MiNDFOOD coverage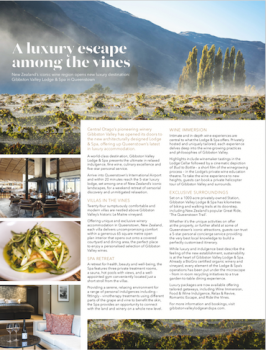 Gourmet Traveller coverage